Move over wellness journal, things are about to get way more woo woo. The item on every healthy hedonist's stocking list this year is an astrology journal. If you are mindful of how the moon affects your mood or passionate about planetary energy as we near 2022, it's time to invest in one. We interviewed astrologer Kerry Kershaw, founder of The Magic of I. Astrological Planner, to tell us more…
What is an astrology journal?
The Magic of I. Astrological Planner is a dated planner that includes a substantial amount of astrological data to guide you through the entire year. Not only is it a year, month and weekly planner, it is also a comprehensive guide to all of the moon movements, planetary placements and aspects of 2022, including 36 pages of helpful information and How To Guides in understanding planets, aspects, zodiac signs, moon phases and so much more. It also includes an intention setting workbook for dreaming and manifesting with precision and ease.
Who is an astrology journal for?
The Astrological Planner is for anyone interested in learning more about Astrology or those who want to stay organised with ease using a beautiful high quality planner. It is designed for beginners and experts alike. You can delve as deep as you like into the information or simply use it as a regular planner that also follows the moon cycles.
What can we achieve by using one?
This incredibly special Planner is a navigational tool for discovering your full potential, while granting us permission to be as we are. It teaches us to flow with the energies of the moon with ease and learn the conversations of the planets. This empowers us with an awareness of the natural cycles that are available to align our lives for more holistic harmony in times of change.
Where can we buy one?
You can purchase the Magic of I. Astrological Planner from our dedicated UK website www.uk.magicofi.com with 2 day shipping within the UK
How did you get into astrology?
I've always been interested in the unseen and being a creative introvert with high sensitivity, astrology is the perfect language that explores and explains the interplay of above and below, out there and in here.
Why do we need an astrology journal now?
We are in times of great change and many are looking for something to guide them through the ebbs and flows of life. Astrology provides a foundation for understanding patterns and cycles of time, but more particularly it is a tool to understand ourselves more deeply.
How does an astrology journal differ from a wellness journal?
The planner is time and date specific tracking the realtime movements of the moon and the planets for the whole year, with monthly themes to explore as we follow the Sun cycle and guided reflections for each new and full moon. As well as including features you would find in a wellness journal like intention setting with goals and actionable steps, space for reflective journaling, and thought provoking statements and quotes. This practice can also be shared with a community of other Magic of I. enthusiasts that makes it really special. It's so much more than just a planner.
Get your weekly DOSE fix here: SIGN UP FOR OUR NEWSLETTER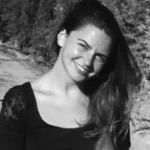 Hettie is the editor and co-founder of DOSE. A keen runner, she's also partial to a blast of high-intensity and hot yoga. A country girl at heart, she divides her time between London and the lush rolling hills of North Devon. When she's not jetting off on her next adventure, Hettie can be found in a candle-lit alcove with a laptop, a spaniel and a full bodied Malbec.