Fish is one of the healthiest foods you can eat. It's packed with important nutrients, such as protein and vitamin D. Fish is also a great source of omega-3 fatty acids, which are essential for your body and brain. Here are 3 delicious recipes from Alaska Seafood, to help you pack more fish into your diet…
3 delicious fish recipes
Warm Quinoa Salad with Avocado, Pancetta and Alaska Smoked Salmon
Serves 4
Ingredients
2 tsp Dijon mustard
2 tbsp red wine vinegar
2 tbsp olive oil
Dash of honey
Sea salt flakes
Freshly ground black pepper
1 packet of cooked red and white quinoa
200g tender-stem broccoli, cut into small florets and blanched
250g sliced Alaska smoked salmon
1 small avocado, peeled and diced
75g frozen edamame beans or peas
4 spring onions, finely chopped
A handful of parsley leaves
A handful of mint
2 small punnets salad cress, snipped
4 eggs, boiled
4 rashers crispy Pancetta
Method
Whisk the Dijon mustard and red wine vinegar together in a bowl then whisk in the olive oil and honey and season well.
Add the quinoa along with the broccoli, smoked salmon, avocado, edamame beans or peas and spring onions, then toss everything together. Add the herbs and cress and toss again. Top with a warm boiled egg and some crispy Pancetta.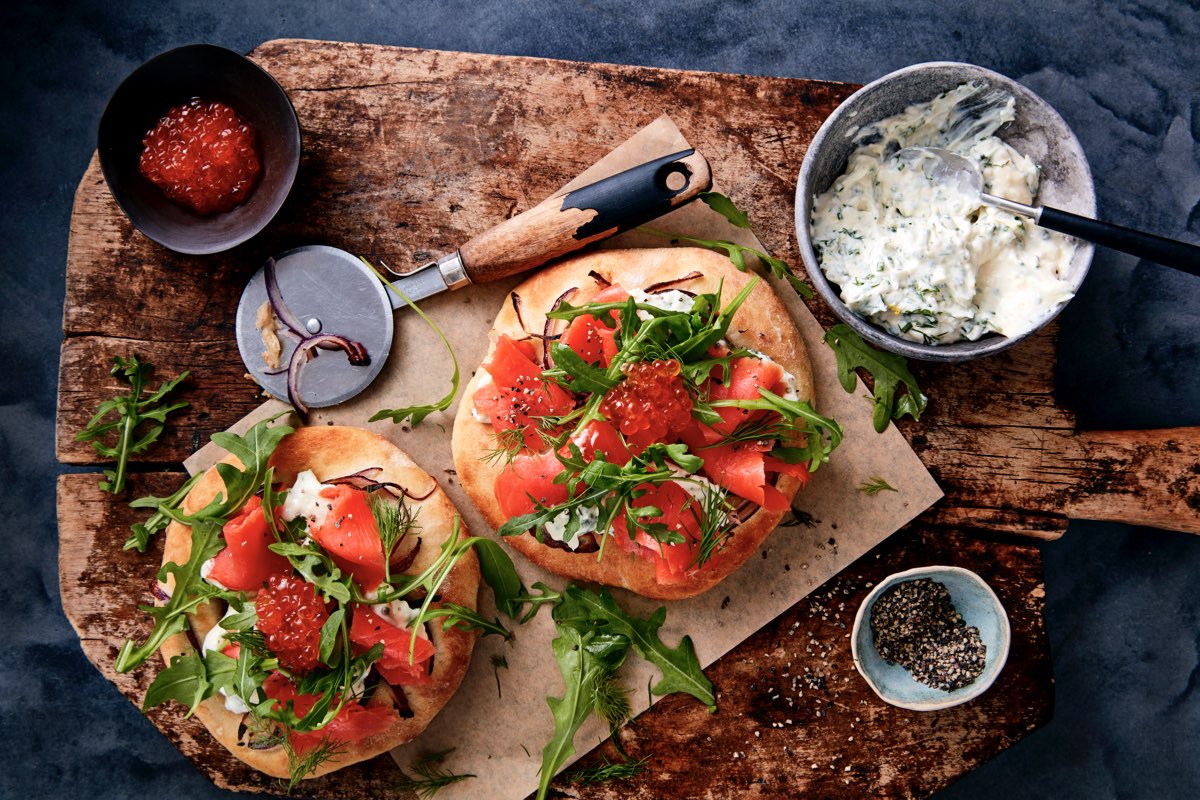 Pizzetta Bianco with Alaska Smoked Salmon, Herb Crème Fraîche, Red Onion, Rocket and Keta Salmon Roe
Makes 6
Ingredients
200g crème fraîche
2 tbsp hot horseradish sauce
1 tbsp lemon juice
Grated zest of 1 lemon
2 tbsp chopped fresh dill, plus small sprigs for garnish
2 tbsp chopped fresh chives
Sea salt flakes
Freshly ground black pepper
1 large red onion, thinly sliced
1 tbsp olive oil, plus more for brushing
250g ciabatta bread mix
Plain flour, for dusting
A handful of rocket
200g thinly sliced Alaska smoked salmon, torn into small pieces
1 x 100g jar Alaska keta salmon roe
Method
Preheat the oven to 200°C/400°F/Gas mark 6.
Mix together the crème fraîche, horseradish, lemon juice and zest, dill and chives, season with some salt and pepper and leave to one side.
In a small bowl, toss the red onion with the olive oil and season lightly with salt and pepper. Set aside.
Make the bread mix following the instructions on the back of the packet.
Divide the pizza dough into 6 equal pieces. On a floured surface, roll out each piece into a 5-inch/13cm round. Brush each round with olive oil and season lightly with salt and pepper. Top each round with the onion slices, dividing them evenly between the 6 rounds.
Carefully slide the pizzette onto a baking sheet or pizza stone and leave to rise in a warm place for 10 minutes.
Place the pizzette in the preheated oven and bake until the crusts are lightly browned which will take around 6-8 minutes.
Remove the pizzette from the oven and transfer them to a board or serving platter. Allow to cool for a few minutes, then dollop some of the herb crème fraiche onto each followed by some rocket. Scatter the smoked salmon and salmon roe on top dividing it evenly between the pizzettas.
Garnish each with a sprig of dill and serve immediately.

Wild Alaska Pollock Chilli Ramen
Serves 4
Ingredients
3 tbsp of white miso paste
1½ tbsp of mirin
1 tbsp of soy sauce
1 tbsp of sesame oil
A good dash of maple syrup
4 x Alaska pollock fillets, cut in half
750ml of fish stock or vegetable stock
1 star anise
8 dried shitake mushrooms
2.5cm piece fresh root ginger, peeled and thickly sliced
2 garlic cloves, lightly bashed
4 spring onions, white and green parts separated, finely chopped
4 large eggs
Vegetable oil, for frying
Sea salt flakes
Freshly ground white pepper
200g dried ramen noodles, cooked
100g of baby spinach leaves
100g of tinned sweetcorn
1 tbsp Japanese chilli sauce
1 red chilli, deseeded and cut into thin strips, to serve
Black sesame seeds, to serve (optional)
Method
To marinade the pollock, place 1 tablespoon of white miso paste, ½ a tablespoon of mirin, soy sauce, sesame oil and maple syrup into a wide shallow bowl and stir to combine. Add the Alaska pollock fillets. Coat well, cover and leave in the fridge for 30 minutes.
Pour the stock into a large saucepan and add the star anise, shitake mushrooms, ginger, garlic and the white parts of the spring onions. Bring to a gentle simmer and cook for 15 minutes. Strain the liquid, return to the pan and place over a medium heat. When the broth comes to the boil, carefully add the eggs (in their shells) and cook for 6 minutes. Meanwhile pan fry the Alaska pollock fillets in a little vegetable oil for 2-3 minutes and remove from the pan.
Using a slotted spoon, lift the eggs out of the broth and place in a bowl of iced water to cool. Shell the eggs and cut into halves.
Whisk the remaining miso paste into the broth, then stir in the remaining mirin. Season with a pinch of sea salt and a small pinch of white pepper.
Add the noodles to the broth and cook until the noodles are warmed through. Remove the noodles with a slotted spoon and divide between four warmed bowls. Top each bowl with some spinach followed by some sweetcorn and place a couple of pieces of pollock on top and finish with the egg halves.
Bring the broth back to the boil then ladle it into the bowls. Garnish the ramen with the green parts of the spring onions and a dollop of chilli sauce. Sprinkle with red chilli and sesame seeds. Serve immediately.
Recipes courtesy of Alaska Seafood
Get your weekly DOSE fix here: SIGN UP FOR OUR NEWSLETTER