Beder, the mental health awareness & suicide prevention charity, has launched its first cookbook. Crammed full of recipes from top chefs like Gordon Ramsay, Yotam Ottolenghi, Romy Gill and Atul Kochhar, it's the lockdown distraction we all need.
When Beder founder Razzak Mirjan first mentioned the concept of the book, From Beder's Kitchen, over one hundred foodies responded and offered to contribute. From that, 90 recipes were hand-selected to feature in the book.
The recipes are divided into five chapters, each with a different theme: Start Your Day The Right Way; Happy Gut Happy Life; Fast Food (But Not As You Know It); Soul Food; and Sweet Treats. 
The main aim of From Beder's Kitchen is to raise awareness about mental health and suicide and many of the recipes are accompanied by personal stories and words of advice from the chefs.
From a sticky and delicious salted caramel tart to baked pomegranate feta, we've picked our four favourite recipes from the book below.
From Beder's Kitchen, £22, buy it here. All proceeds support Beder.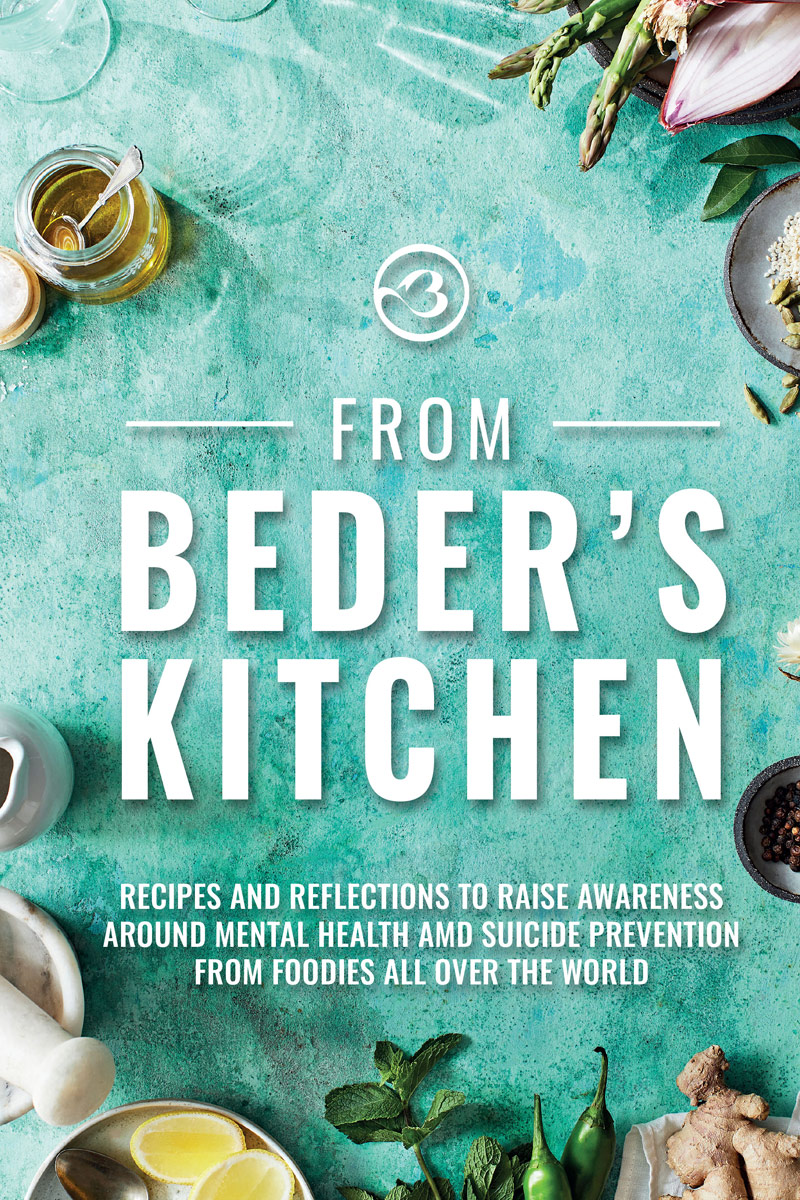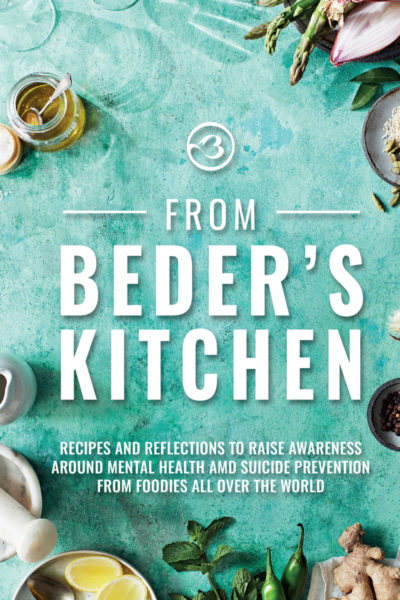 Baked Pomegranate Feta with Spiced Red Pepper Sauce & Tabbouleh
By Liberty Fennell
Preparation time: 10 minutes | Cooking time: 20-30 minutes | Serves 2
This recipe is vegetarian and gluten-free, but aside from that it's something I have cooked for years in one way or another which brings me comfort, a sense of familiarity and joy.
For the red pepper sauce:
150g baby plum tomatoes
100g roasted jarred red peppers
3 cloves of garlic, kept in their skins
1 red chilli, stalk removed
½ a red onion, cut into wedges
1 tsp ras el hanout
Olive oil
Salt and pepper
For the feta:
200g feta
1 tbsp pomegranate molasses
1 tsp za'atar
1 tsp runny honey
For the tabbouleh
100g quinoa (mixed, white or red)
30g flat leaf parsley, finely chopped
30g fresh coriander, finely chopped
15g mint, stalks removed, finely chopped
75g baby plum tomatoes, finely chopped
½ a red onion, finely chopped
½ a lemon, juiced
Preheat your oven to 220°c fan.
While you cook the quinoa for the tabbouleh according to the packet instructions, then drain it and leave to cool (unless you are using pre-cooked quinoa).
Place all the ingredients for the red pepper sauce onto a medium-sized baking tray, sprinkling the ras el hanout evenly over everything.
Drizzle with olive oil (about two tablespoons) then season with salt and pepper.
Place the tray in the preheated oven to roast the vegetables for 20 minutes until charred and soft.
Meanwhile, line a small baking tray with tin foil or baking parchment then place the block of feta on top. Drizzle with the pomegranate molasses, za'atar and a tablespoon of olive oil. Place in the hot oven to cook for 15 minutes until soft and golden.
Place the cooked and cooled quinoa, parsley, coriander, mint, chopped baby tomatoes and chopped onion into a mixing bowl.
Add two tablespoons of olive oil and the lemon juice, season with salt and pepper and toss everything together to make the tabbouleh.
Remove the roasted vegetables from the oven, take out the whole garlic cloves and squeeze the soft garlic out of the skins into a food processor along with the rest of the roasted vegetables. Blend until smooth to make the red pepper sauce.
Serve the tabbouleh onto plates. Remove the feta from the oven and drizzle with honey. Serve the baked feta onto the tabbouleh and any juices from the tray then spoon over some of the spiced red pepper sauce.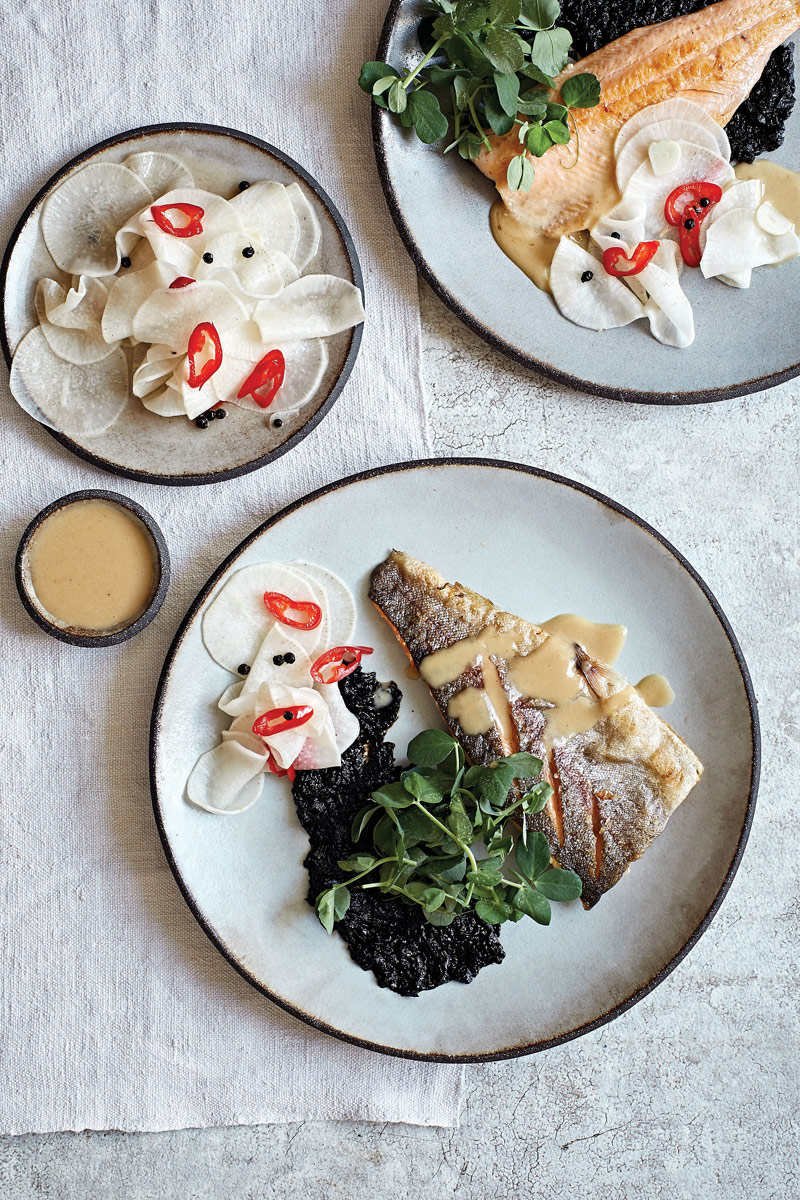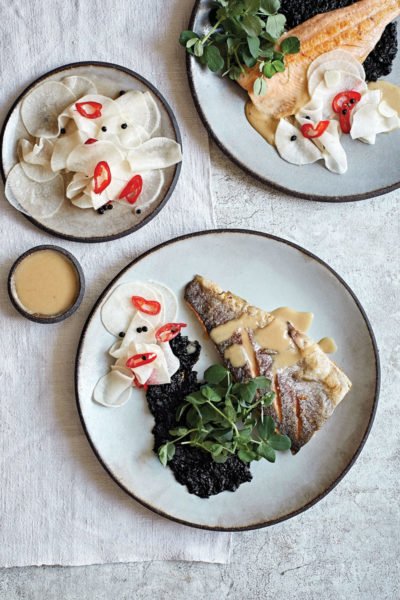 Roasted Trout, Sesame Miso Dressing, Nori Puree & Yuzu Pickled Daikon
Miles Kirby
Preparation time: 20 minutes | Cooking time: approx. 20 minutes | Serves 4
This is a great dish for entertaining friends. You can prepare everything in advance and just cook the trout 'to order'. Pickles are naturally good for gut health as is miso paste, which has been fermented… plus it tastes delicious!
4 x 180g skin-on pieces of boneless sea trout
4 handfuls of pea shoots
For the yuzu pickled daikon
160g daikon, peeled and thinly sliced
4 tbsp yuzu juice
2 tbsp white wine vinegar
½ lemon, juiced
1 red chilli, sliced
1 clove of garlic, peeled and sliced
50g caster sugar
2 tbsp fine sea salt
½ tsp black peppercorns
For the sesame-miso dressing
2 tbsp shiro miso paste
2 tbsp atari goma (or tahini)
2 tbsp honey
2 tbsp cold water
1 tsp pickled ginger puree
1 clove of garlic, finely grated
For the nori puree
8 nori sheets
100ml each of mirin, sake and soy sauce
50ml balsamic vinegar
For the yuzu pickled daikon: 
To make the pickling liquid, place everything except the daikon into a heavy-bottomed pan with 150ml of water. Bring to the boil. Place the sliced daikon into a bowl, pour the hot pickling liquid over the daikon then chill.
For the sesame-miso dressing:
Combine all the ingredients in a bowl and whisk well to combine. If you can't find atari goma, a sesame paste from Japan which comes in a white or black sesame version, just use tahini, which you can find anywhere. The results are similar but you may have to thin out the dressing with a little more water.
For the nori puree:
Hold the nori sheets over the flame on your stove with a pair of tongs. Flip the nori over repeatedly until the sheet begins to dull in colour and crisp up. Be careful as it can burst into flames (but can be extinguished relatively easily when blown on). Combine the mirin, sake, soy and balsamic in a saucepan and bring to the boil. Crumble in the toasted nori sheets and boil until most of the liquid has evaporated. Blend to a paste with a stick blender.
When you are ready to cook the fish, heat a little oil in a non-stick pan until sizzling. Meanwhile, use a sharp knife to make three or four score marks through the skin of each piece of fish. Season with salt and pepper then lay each fillet skin side down in the hot oil; it should sizzle immediately. Cook for 2 to 3 minutes until the skin is golden and crisp. Remove the pan from the heat and flip the fish over to the other side. Leave it to sit off the heat in the warm pan for another 2 to 3 minutes.
To serve
Smear a good dollop of nori purée over four plates. Place a piece of cooked fish on top of the puree with some pickled daikon on the side (having drained off the liquid). Drizzle over the sesame-miso dressing, then garnish with the handful of pea shoots, or another delicate green leaf, to finish.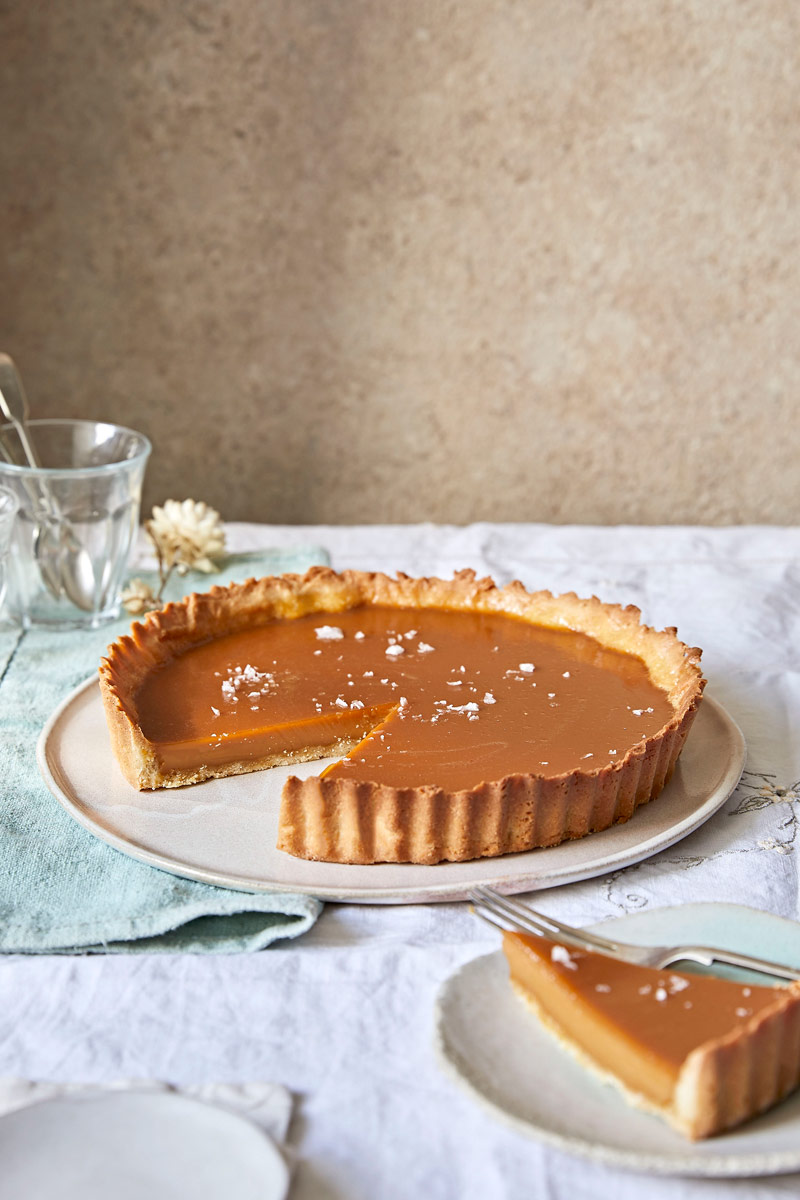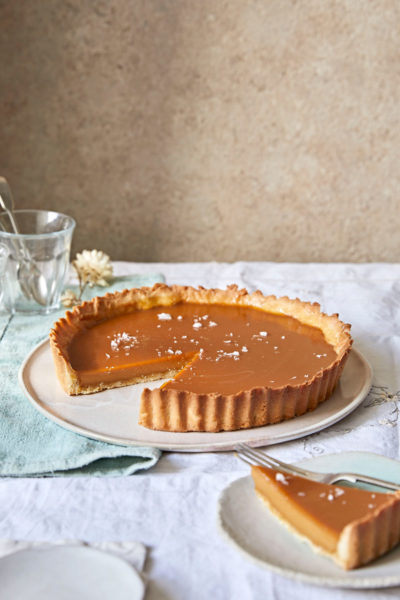 Salted Caramel Tart
by Hannah Catley
Preparation time: 50 minutes, plus chilling overnight | Cooking time: up to 1 hour 30 minutes | Serves 12
This has become a staple throughout my career; it was one of the first things on the menu when I started my bakery, Lockdown Loaves, and is possibly one of my all time favourite desserts!
For the sweet pastry:
200g caster sugar
300g butter
2 eggs, beaten
500g flour
4g salt
For the salted caramel:
500g double cream
140g caster sugar
135g egg yolks
35g muscovado sugar
Salt, to taste
For the sweet pastry:
Beat the sugar and butter together in a stand mixer, slowly pour in the eggs, then gradually add the flour and salt in three parts.
Work everything together until the mixture forms a soft dough, then cover and chill your pastry in the fridge overnight.
Roll out the chilled pastry, line your tart tin with it, trimming off any overhang, then rest in the fridge for 30 minutes. Blind bake the tart case at 180°c for around
30 minutes, checking now and then to make sure it's on the right track.
The pastry should be golden and firm when done. I would recommend using a 28cm (11 inch) tart tin here, but you could easily adapt the recipe to fit different sized tins.
For the salted caramel:
Wam the double cream over a gentle heat.
Meanwhile, melt your caster sugar in a separate pan and have the yolks and muscovado sugar mixed together in a separate bowl ready to use.
When the sugar in the pan has turned into a golden caramel, very gradually add the warm cream while mixing gently. Be very careful not to burn yourself as it will bubble up and emit a lot of very hot steam.
Once the cream and caramel are combined, gradually pour in the egg and sugar mixture while stirring continuously. Add salt to taste and then pass the mixture through a fine sieve to remove any lumps.
Pour the salted caramel filling into the pre-baked tart case and bake at 100°c until the centre of the tart is no longer liquid, but still has a slight wobble.
Check after 30 minutes and keep an eye on it; the total baking time could be up to an hour depending on your oven.
When done, leave the tart to cool at room temperature before slicing and serving.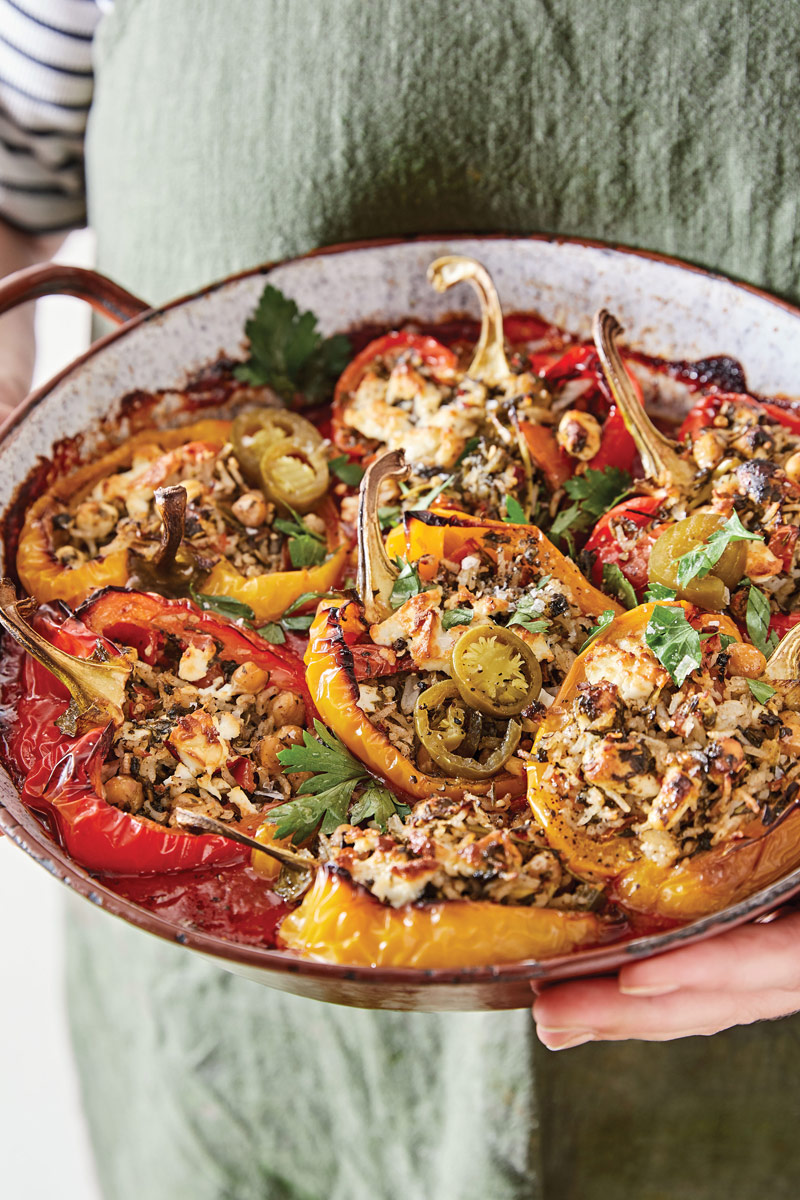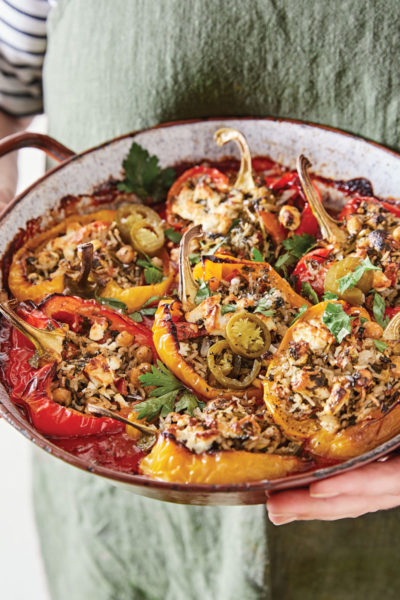 Vegetarian Stuffed Peppers
Mai Kakish
Preparation time: 25 minutes | Cooking time: 50-55 minutes | Serves 4-5
Arabs in general and especially Palestinians love to stuff almost any seasonal vegetables for the best flavour. Growing up, dishes like this were made on the weekend, but were also festive enough for the holidays or when guests are expected.
4-5 medium sweet bell peppers
3 tbsp extra-virgin olive oil
Salt and pepper, to taste
400g cooked short grain rice
240g cooked chickpeas, rinsed and drained
150g diced halloumi or feta cheese
60g finely chopped Italian parsley
60g chopped fresh mint leaves
3 spring onions, chopped
2 vine tomatoes, diced
1 jalapeño, diced (optional)
1 tsp allspice
1 tsp sumac
½ tsp Aleppo pepper
¼ tsp ground cinnamon
¼ tsp freshly grated nutmeg
700ml tomato or marinara sauce
Preheat the oven to 190°c fan.
Prepare the peppers by halving them lengthways then removing the 'ribs' and seeds to create a nice pocket for holding the filling.
Drizzle one tablespoon of olive oil over the peppers and sprinkle with salt. Roast in an ovenproof dish for 20 minutes in the preheated oven until the peppers are a little tender and caramelised.
In the meantime, prepare the filling. Put all the remaining ingredients except the tomato sauce in a large bowl and toss together to combine. Taste the mixture and adjust your seasoning.
When they have roasted, let the peppers cool enough to be handled, then divide the filling between them. Lower the oven temperature to 180°c.
Pour the tomato sauce into the ovenproof dish, then arrange the stuffed peppers on top. Bake for 30 to 35 minutes until the sauce is bubbling and the filling is piping hot.
Serve the stuffed peppers with a dollop of plain yogurt and a green salad.
If you have extra filling, experiment with other vegetables such as tomatoes, courgettes or small aubergines. This filling is also delicious on its own. The peppers can be stuffed, covered and refrigerated up to 1 day in advance. Leftovers can be saved and refrigerated for 2 to 3 days.