Dreaming of a long haul escape? Rosie reports back on a stay at Beaches Turks & Caicos Resort Villages & Spa…
As a family or even as a couple, choosing a holiday destination that is perfect for everyone can be tricky. A family-friendly resort risks compromising on romance, whilst beach hotels might not offer something for those who aren't sun-worshippers. But Beaches Turks & Caicos Resort Villages & Spa really does have it all: from a waterpark that even adults adore through to intimate fine dining, and from scuba diving to private beach cabanas. And the best part? It's all included, making for a completely stress-free luxury holiday experience.
BEACHES TURKS & CAICOS: THE LUXURY-INCLUDED RESORT THAT HAS IT ALL
A TROPICAL FANTASY PARADISE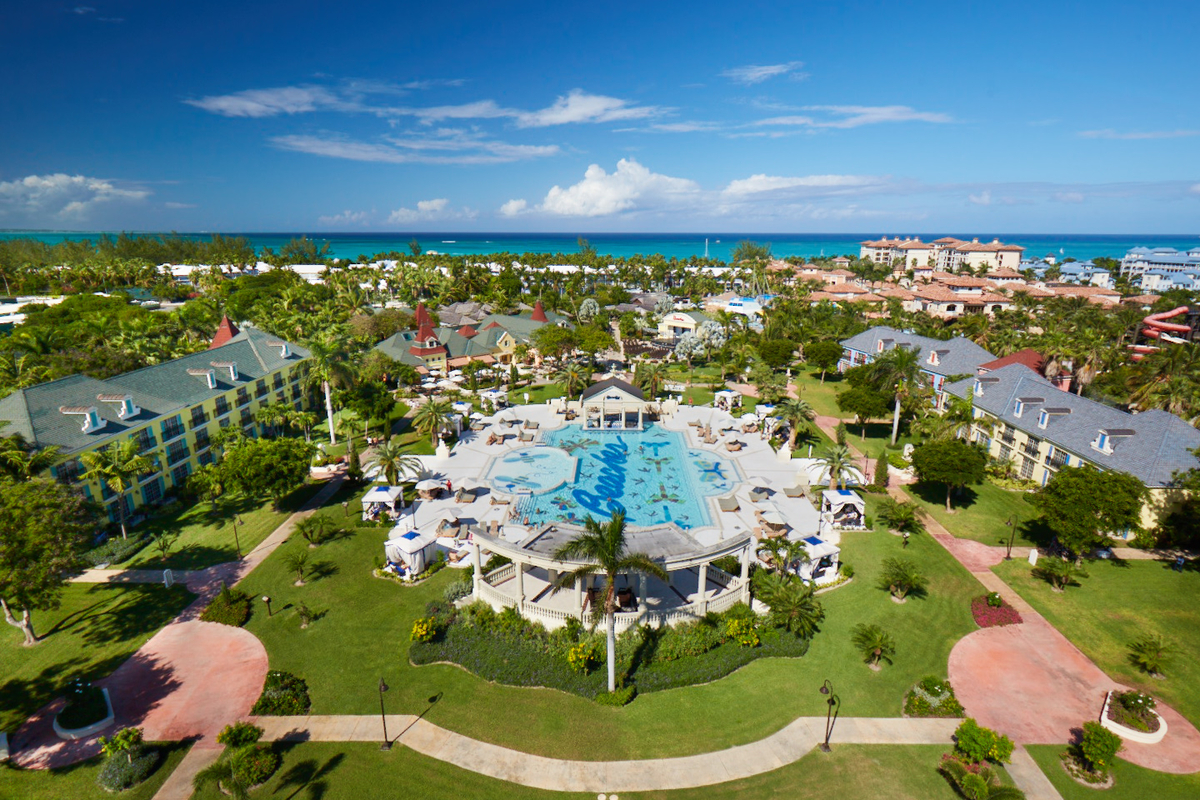 My reaction when I arrived at Beaches Turks & Caicos Resort Villages & Spa was like a grown-up version of when a child enters Disneyland: a dream come true. Our plush private car takes us down a boulevard of magnificent palm trees, to be welcomed by our personal butler handing us a glass of champagne. Whilst we sip it, we soak up the view across a dazzling blue pool, then out towards an immaculate white beach with miles of ocean stretching as far as the eye can see. A golf buggy takes us to our bungalow, which is nestled in manicured tropical gardens resplendent with graceful palms.
NEVER-ENDING OCEAN VIEWS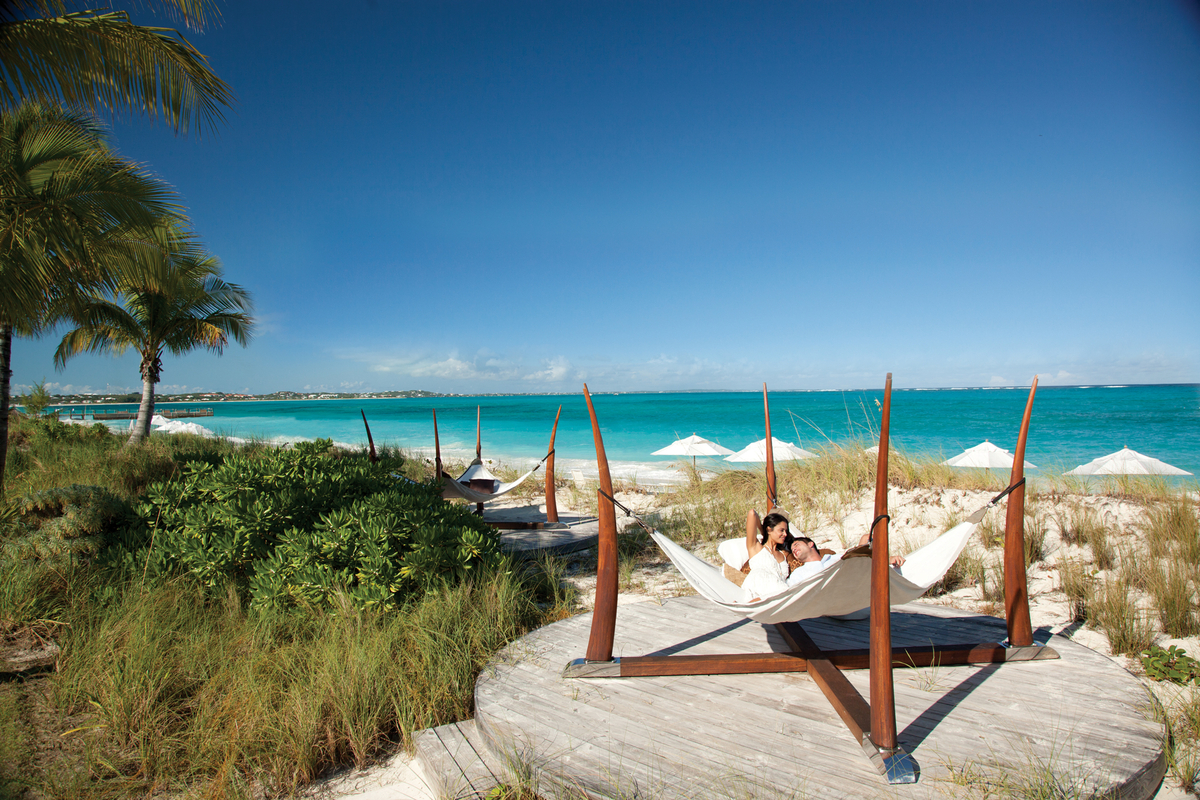 Made up of five distinct areas, Beaches Turks & Caicos Resort Villages & Spa offers the nested beachside Suites of the Seaside Village, the seaside garden paradise of the Caribbean Village, the sophisticated style of the French Village, the monumental surroundings of the Italian Village, along with the Key West Village which features 3 & 4 bedroom Villas. It's also reassuring to see touches like seals on doors to ensure rooms remain disinfected: the resort takes its Platinum Protocols of Cleanliness very seriously indeed.
Our room is in the Italian Village, with a spectacular patio that overlooks a seemingly never-ending 12-mile stretch of beach. Just when we think it can't get much better, our butler offers to unpack whilst we open another bottle of champagne from the bar and take it all in from our four-poster bed. Now this really is living.
DINING UNDER THE STARS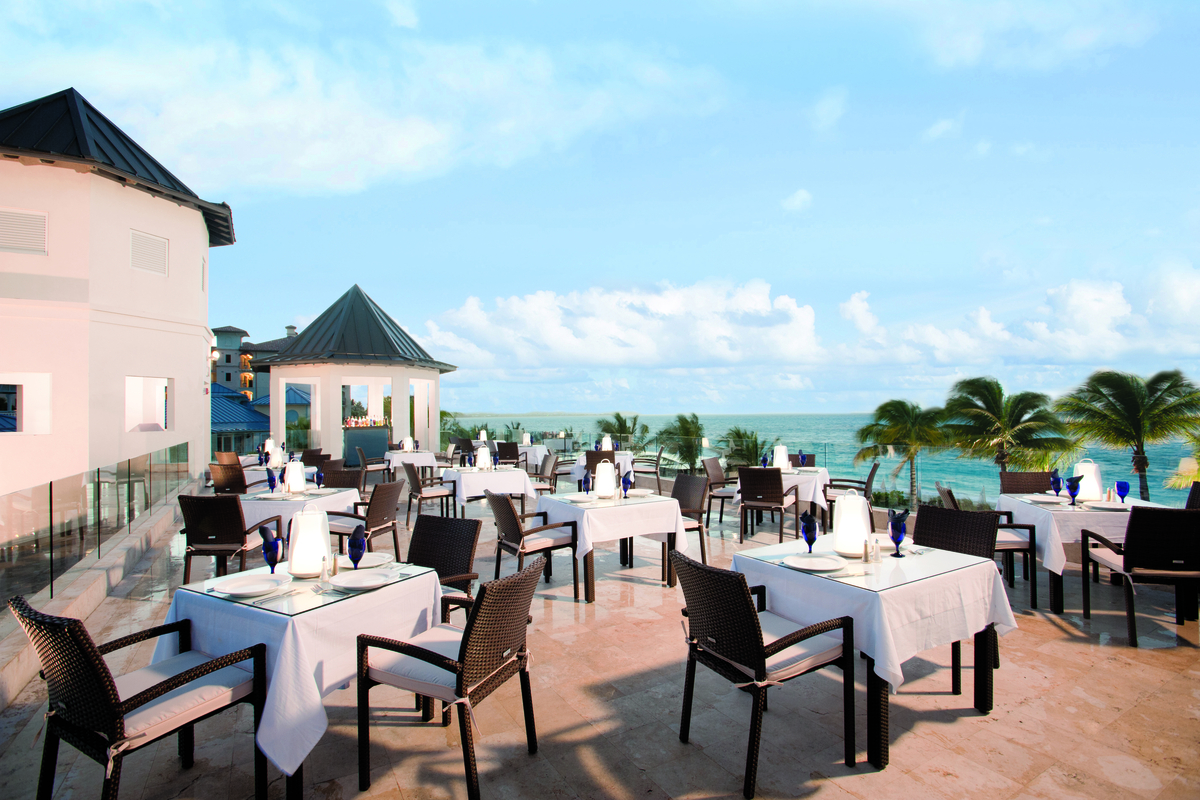 As we arrive shortly before sunset, our butler has taken the liberty of reserving us a table at Sky, the perfect spot to watch as the sky changes colour to magnificent shades of orange and pink. We sip pina coladas and feast on hand-dived scallops, avocado and crab salad, local lobster and pan-fried halibut. Whilst the signature chocolate torte catches our attention for dessert, we resist and decide to relocate to another of the resort's 21 (yes, you read that right) restaurants, Sapodilla's, to share an exquisite banana and hazelnut rum tart.
DIVING WITH TURTLES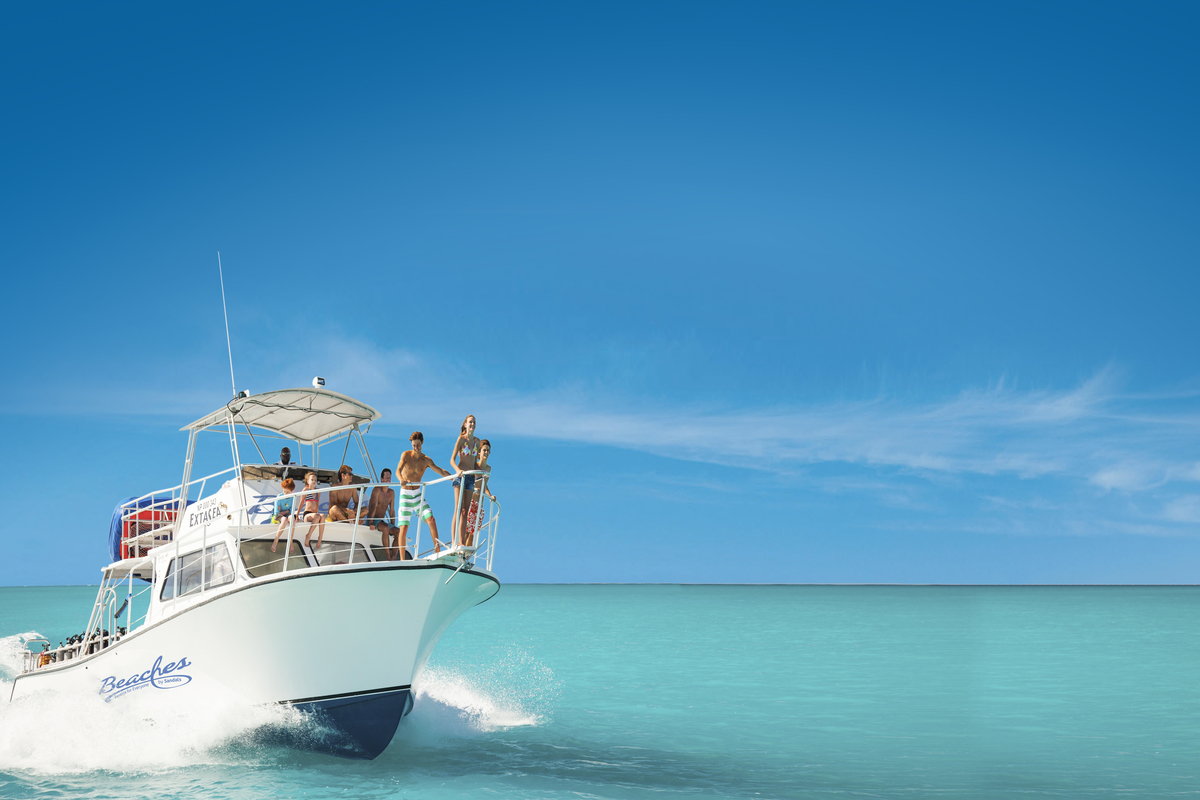 The next morning, after a breakfast of smoked salmon and asparagus benedict, we visit the resort's dive centre: the island is renowned for its spectacular scuba diving and snorkelling, and 2 scuba dives per day are included for PADI certified divers. Unfortunately we aren't visiting for long enough to get our licences, but a snorkel in the crystal-clear water offers more than we could have ever hoped for: several turtles, eagle rays, and puffer fish. We step out of the water to a private beach cabana where our butler has left us a cooler stocked with – you guessed it – more champagne, although we are lured instead by the reggae beats emanating from the jerk shack further down the beach, where a killer rum punch, jerk chicken and sweet potato fries hits the spot exactly.
FAMILY FRIENDLY, BELOVED BY COUPLES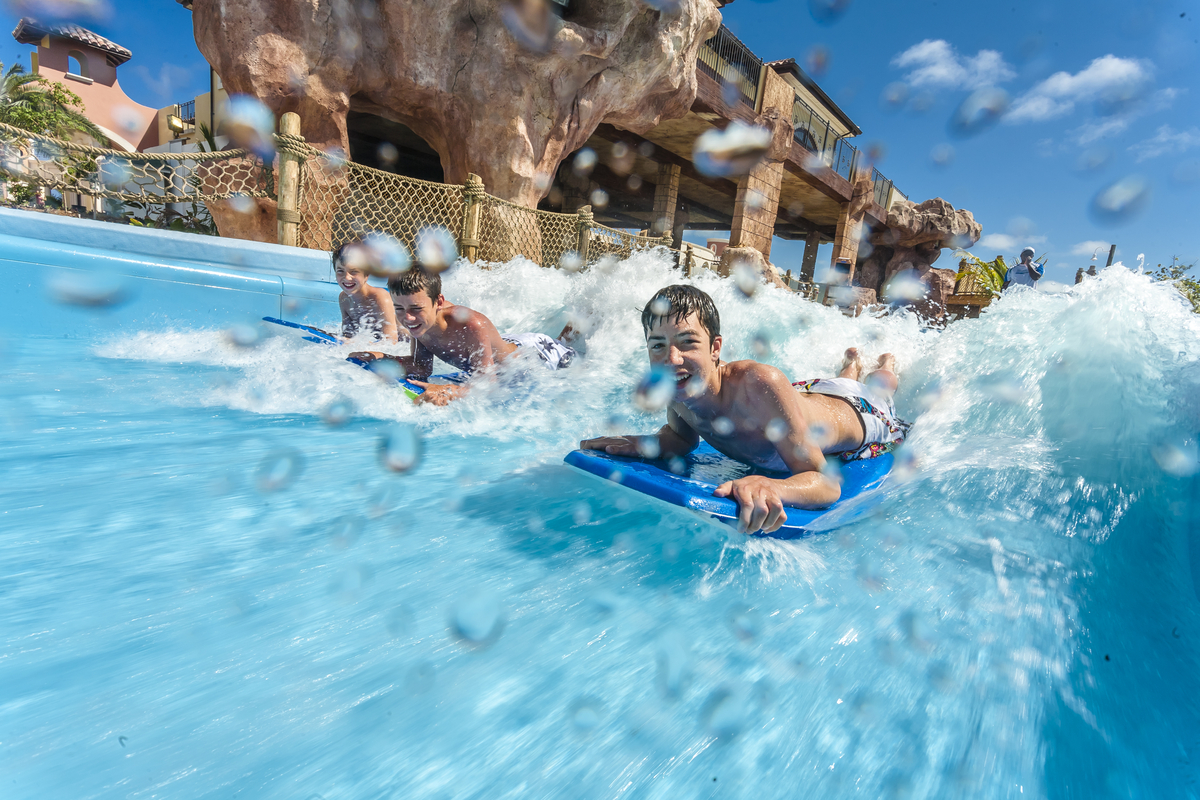 Feeling a little cheeky after a few rum punches, we decide to check out the water park: although designed for families, we can't resist a trip down one of the nine slides. There's also a host of activities to entertain children from just a few months old through to teenagers, allowing parents some well-deserved time off – and sparing couples of any screaming children around the resort. After a (failed) attempt on the surf simulator, we decide to leave the kids to it and check out another of the resort's 10 pools – but are stopped in our tracks by a dangerous discovery: the Mr. Mac food truck. Forget the champagne: having unlimited access to truffled mac and cheese might have just made this my all-time favourite destination.
BACK TO HAPPY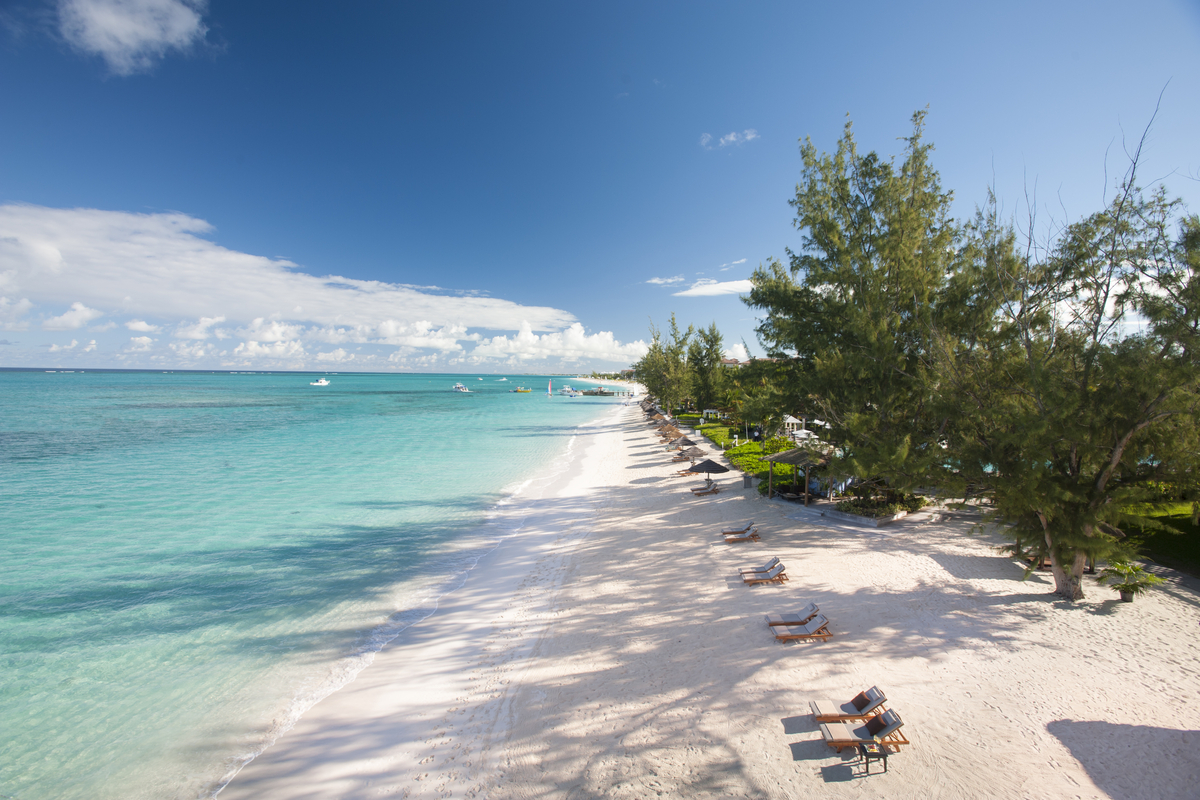 We all need something to look forward to right now, and at Beaches Turks & Caicos Resort Villages & Spa you can book with confidence. To book or for more information on Beaches Resorts, visit www.beaches.co.uk or call 0800 597 0002. Butler service included in selected suites; inquire when booking.
By Rosie
Get your weekly DOSE fix here: SIGN UP FOR OUR NEWSLETTER