Want to raise a confident foodie and help your baby love their broccoli as much as their cake? Charlotte Stirling Reed, Nutritionist and Author of new book "How to wean your baby", talks us through what she feeds her kids at home…
New research commissioned by Stokke, makers of the iconic Scandi Tripp Trapp Chair reveals that families are fed up with their dinners as over four fifths of UK parents are experiencing 'meal fatigue' and more than half of parents struggle to prepare a meal that is healthy that the entire family will enjoy. Here, Nutritionist Charlotte Stirling Reed, (the same nutritionist Joe Wicks chose for his Wean in 15 book) reveals what she feeds her own kids…
What Nutritionist Charlotte Stirling Reed feeds her kids
Breakfast
Breakfast is often porridge, or pancakes – mainly because it's SO easy to add extras to these – extra flavours such as cinnamon, or ginger, extra nutrients from peanut butter or milled seeds stirred in or extra portions of your 5 a day with some berries thrown into the batter/with the oats or even just sticks on the side.
Lunch
I like a picky finger food lunch for those busy days. Trying to make this balanced is often easy too so things such as; Wraps with hummus and pepper. Cucumber fingers with yogurt dip and leftover curries. Tuna, yogurt and sweetcorn spread on toast. Omelettes with potato, mixed veg and cheese.
Dinner
Tends to be something hot, but it does vary. I love potato tots for babies as they are just so simple and easy to vary. Otherwise, it's whatever we're having for dinner. Pasta with chickpea and tomato sauce
Chilli with potatoes and some grated cheese.
I'm all about trying to make the most of meals and balance the food groups on offer where possible so that you know babies AND kids are getting all the nutrients they need. This means I'm always thinking about what I can sprinkle on top, what I can use as a dip or how I can add extras like lentils, fish or beans to pasta sauces.
Order a copy of Charlotte's book "How to wean your baby"
Get your weekly DOSE fix here: SIGN UP FOR OUR NEWSLETTER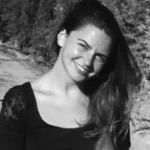 Hettie is the editor and co-founder of DOSE. A keen runner, she's also partial to a blast of high-intensity and hot yoga. A country girl at heart, she divides her time between London and the lush rolling hills of North Devon. When she's not jetting off on her next adventure, Hettie can be found in a candle-lit alcove with a laptop, a spaniel and a full bodied Malbec.