So you want to launch a start up… Why is your idea different? Is there a market for it? Who is your customer? We spoke all about the business of fitness with studio veterans Pip Black and Joan Murphy, founders of cult fitness destination Frame. We caught up with the business duo who turned their backs on work hard, play hard careers in Advertising (propped up by rather a lot of gin…) to pursue their passion. They now manage multiple studios across London while juggling motherhood on the side. All in a day's work…
What was the inspiration behind Frame? We met back in 2007 whilst both working in Advertising. We were having a lot of FUN, but the constant partying and hangovers were beginning to take their toll. We were both missing the feeling we used to get regularly whilst playing top-level sport and training throughout our childhoods and through university. We started to look for somewhere to go which was affordable, fun and sociable but where we didn't have to commit to turning up at the same time each week. This place just didn't exist.
In the process, it really hit home how uninspiring the fitness industry was at the time, especially for women, and all the negative connotations associated with it. Girls only went to the gym because they felt they needed to punish themselves for eating or drinking too much. We personally believed that this was totally mixed up, as exercise is such a positive thing, and so we set out to turn the industry on it's head and create a strong brand that would convince the people of Shoreditch (at first) that exercising was a 'cool' thing to do.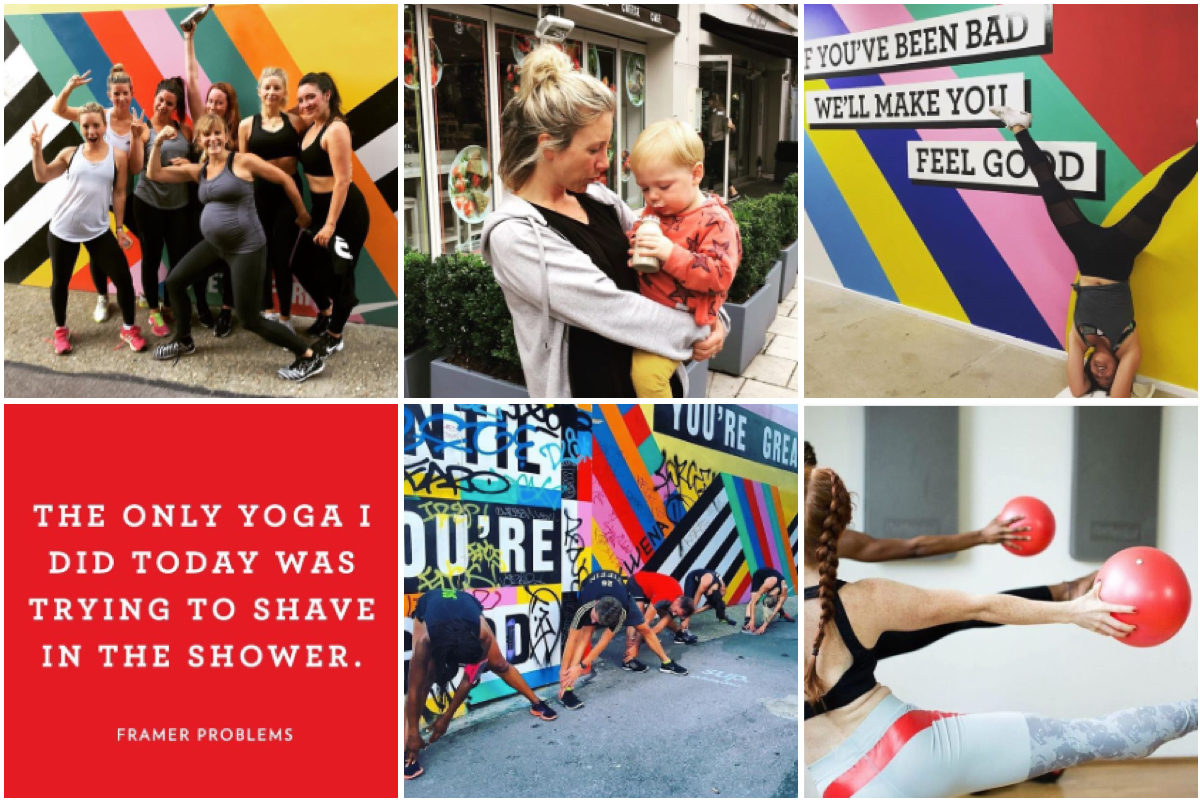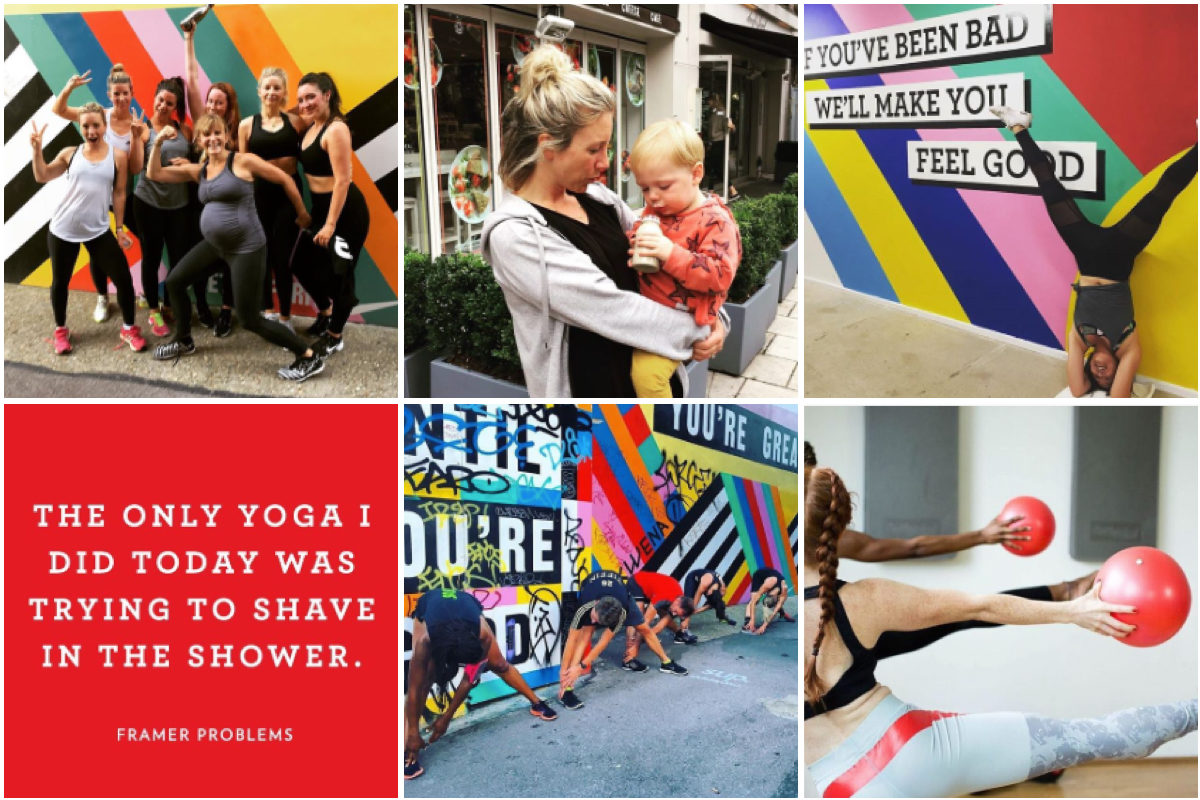 Any low moments along the way? Oh many!! As much as it's commonplace these days to be reading about how we should all quit our day jobs and set out as entrepreneurs, it's really not a life for those who don't have a significant amount of staying power and resilience. There have been many tough times for both of us, financially and mentally. We have both worked ourselves to the point of exhaustion and missed many important moments with friends and family along the way. What's made it worth the while thoug, is that we both whole heartedly believe in what we're doing, and can see the benefits to our customers lives of having somewhere like Frame to come.
I would say a significant low point, was when 1 week before we were due to launch in Shoreditch, we were told that our road was shutting for 6 months and there would be no access… There were a few days when we thought that was it, and that we would be going under, but then we picked ourselves up and decided that we wouldn't let this stop us, and worked out a way to avoid bankruptcy and to keep pushing forwards…
Memorable moments? Too many. We have SO many stories, it's definitely been a journey and we have met the most colourful characters along the way. It's so important to celebrate the successes, no matter how small. If Joan and I start talking about all the random moments from the past, we will be laughing to the point of crying within minutes.
You are owners of 5 studios across London, what does that feel like? We genuinely don't really think of it like that. In fact, we should be better at taking a moment to think about what we've achieved, but actually we are both more bothered about pushing forwards and making things better. We've got so much more we want to achieve, we're not even half way there yet!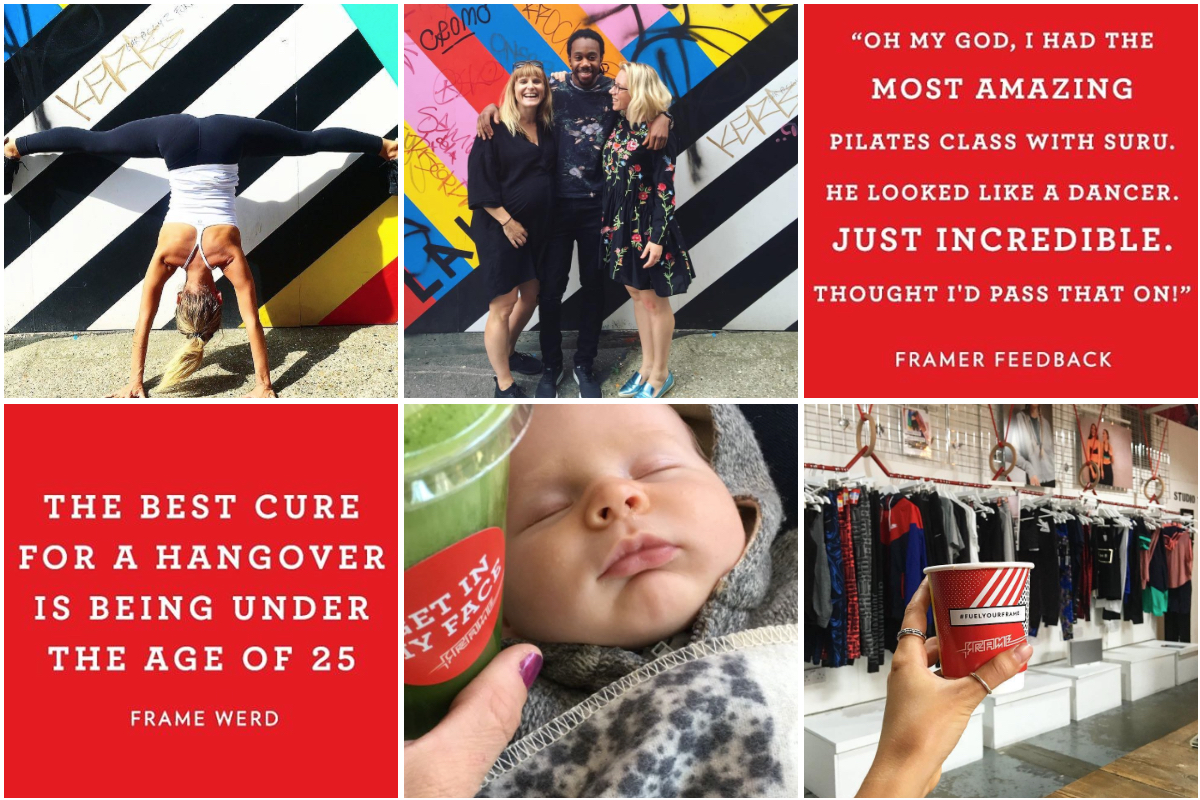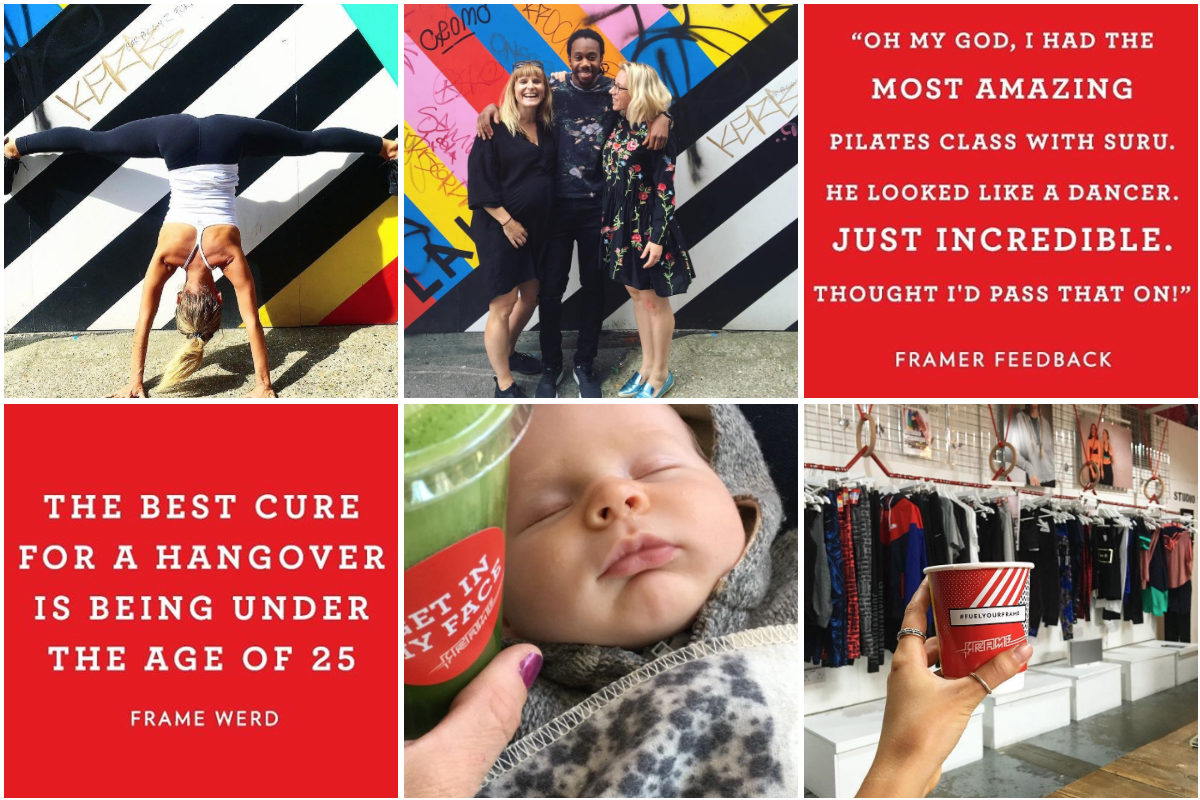 What's your advice to someone wanting to set up a start up in fitness? Why is your idea different? Is there a market for it? Who is your customer? The boutique fitness market has come a long way, but there are now so many copy cats starting and many without any point of difference. It's really not that easy to succeed in this industry, the operations are hard and the hours relentless, so just really consider your business plan and do the numbers to make sure your idea is viable.
What's it like balancing Frame with motherhood? Tough, in terms of hours and sleep, but SO rewarding. In a way, having families has helped us to get more balance in our lives, forced us to work out a better way of working and to grow an amazing team around us, which we need to do in order to achieve what we have planned for the future. I've learned so much from being a mother, patience, discipline and actually a much better grip on what's actually important in life.
We're very lucky to have amazing families to support us and our boys go to a fantastic nursery (way more fun than hanging with us!) They are best buddies – pretty much brothers, and pretty funny to watch! It's also the inspiration behind our new business MumHood, which is all about motivating and educating pregnant ladies and mums to stay fit and active. It's super fun working on a brand new project again!
Pip, what's the best thing about working with Joan? Her relentless drive and energy. You can't coast when Joan's around. There will constantly be a new idea, a new project, a 'this needs to be better'. She pushes me on in terms of work, but is also the best friend you could have! When you have a problem, you go to Joan and then likely it will be sorted!
Joan, what's the best thing about working with Pip? Her attention to detail. Her great way with words and most importantly, always being up for following through on all my crazy suggestions – she's extremely loyal, will always give 100% and also great at picking me up when I'm lacking in confidence.
How do you both stay balanced? Exercise. We are both much more in tune with our bodies these days, rather than just wanting to push ourselves like in the old days. We're aware of the long goal, and looking after our bodies – strengthening those areas which need help and taking time to stretch (so important when you're carrying toddlers around, or Pregnant). The other thing is turning off the phone and spending time with our families. There is nothing better than a weekend walk in the park and brunch with your mind focused 100% on your family.
What is the most popular class at Frame? There isn't really a most popular class. All the classes on the timetable do well, otherwise they would be taken off the timetable The key is to working out what classes customers want to do at certain times of the day, and also how this changes by location. Our timetable is like Tetris, there are a lot of moving parts. This is the joy of having such a wide offering. It would be way less challenging, but also perhaps a little boring if you just ran the same class on repeat all day. One stat I love though, is that 80's Aerobics on a Tuesday evening has been sold out in Shoreditch EVERY week since we launched Shoreditch in March 2009 – that's pretty awesome! Just shows that despite the rise of serious, High intensity exercise, the Framer still wants to let loose and sing along to some old school cheesy pop! ha ha
Describe your perfect mix of workout, fuel and tipple? Seeing that we're getting past it and are now mums, our days of all-nighters and dancing til the early hours in some dodgy club in Dalston are now over. I think the dream day would be a lie in until at least 7am, followed by a Total Body class, a long shower, and then a boozy brunch with our best friends… There would need to be eggs and Bloody Marys and childcare so we could have an afternoon nap on the sofa!!
We are both big foodies. We love food, and wine. But are also pretty healthy. I'd like to think we're quite balanced in our attitudes to food and drink. Some people expect that we'd be raw t-totallers, but I think our attitude shines through in the Frame brand. We don't believe that restricting the good things is going to make you happy!
Favourite bar in London? Currently Satan's Whiskers on Cambridge Heath Road It's between our houses, is super cosy and the cocktails are out of this world!
Favourite post-workout breakfast in London? Tricky one! In Kings Cross we would always choose Caravan, in Shoreditch, Albion for Duck Eggs on Toast, Counter Albion for a 'build your own' breakfast (best deal in town) or Oklava for a full on feast, but you need a few hours to get through the food that is never ending!
What's the future for Frame? Hopefully (fingers crossed) you'll be seeing more studios, probably in London in 2017, and then around the UK and perhaps abroad. We're also looking at education, and expanding our retail offering. We launched our first collection in September which is doing really well and we have our own brand equipment range launching in January. There's also MumHood – share with all your pregnant / mum friends!!! We're determined to change the attitude to exercising during this period of your life.
Life motto: 'What's the worst that could happen" (Pip)
"But, could it be better?" (Joan)