Walking on water might be the stuff of legends… but working out on water is all too possible thanks to Aquaphysical.
Their floating fitness class launched in London's Serpentine in August 2015 and at Dolphin Square (with a little help from DOSE, you can always trust us to spot the next fitness trend… it's just a shame we weren't tagged in that video).
Millions of Facebook hits later… the brand has since gone international with classes available in Barcelona and Lisbon to the Regnum Carya Golf and Spa Resort in Turkey. DOSE contributor Nilufer Atik reports…
It may not sound too taxing but trying to maintain your balance (not to mention dignity) while an Aquabase rocks from side to side on the water is by no means easy, as I discover on a visit to the Regnum Carya Golf and Spa resort in Turkey.
Situated on a private, white sandy beach overlooking the Mediterranean Sea in Belek-Antalya, this five-star paradise prides itself on catering to the whim of every sports enthusiast.
Facilities include a heated outdoor pool, wave pool, and family pool, three football fields designed to meet FIFA standards, a world-class tennis facility, five clay courts, a private beach with an array of water sports, outdoor table tennis, darts, basketball, gym facilities and classes, and, of course, Turkey's first and only golf course with 18 floodlit holes.
With eight bars, seven exquisite restaurants, a theatre and state-of-the-art luxury spa to boot, there's no chance of ever getting bored here!
But my priority on arrival at the opulent, marble-covered lobby of this 553-room haven is to head to the adult pool to put this floating fitness class to the test.
After being shown to my spacious, modern, yet elegant room with glorious views from a sunlit balcony, I don my swimsuit and make my way to the class.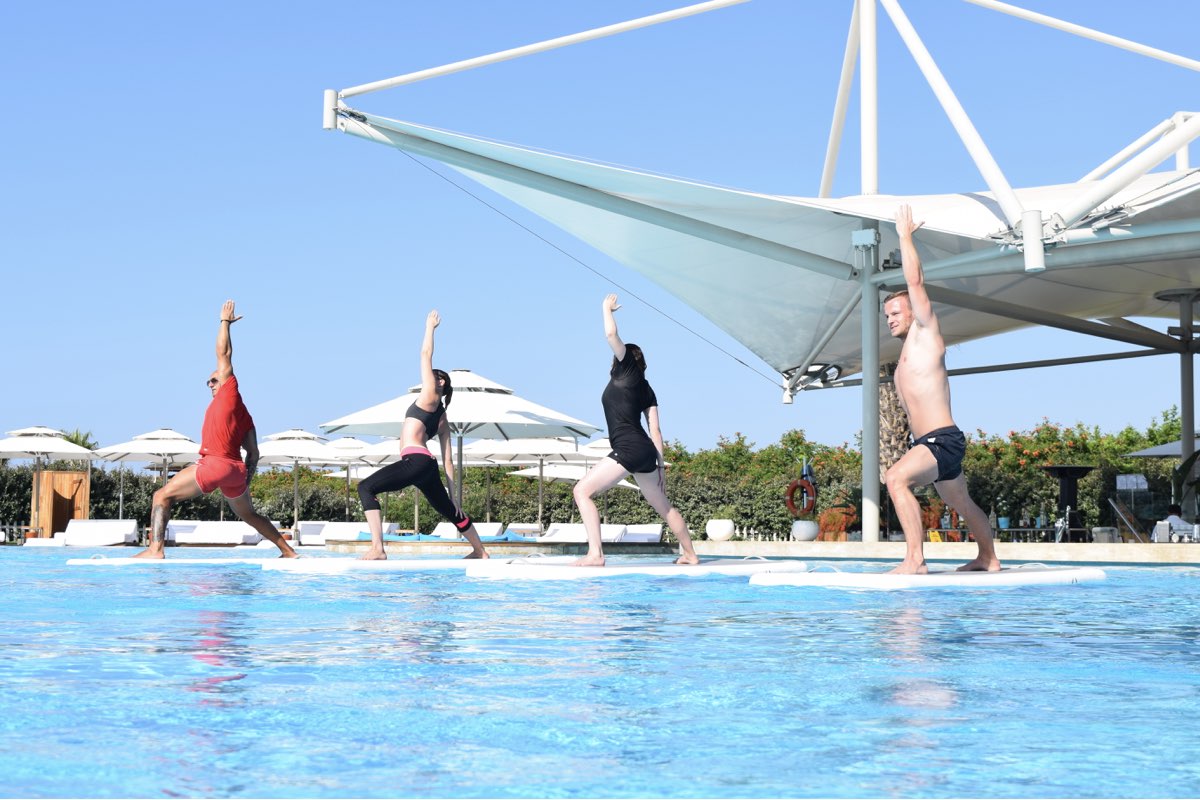 FloatFit focuses on using the surface of the water to challenge the core and stabiliser muscles, providing a tough cardio and conditioning session that would rival any aerobics class.
Using a special responsive exercise mat called an Aquabase, participants are taken through a series of high intensity moves such as; burpees, press ups, squats and jumping lunges, as well as yoga poses, all while battling to stay on the floating mat.
Instructor Pascal Landman and his wife Bianca are raring to go. They promise us that we'll soon "get used to the boards" with a gentle HIIT session.
Gentle? I've never known HIIT to be gentle before. But true to their word, we don't get off to a vigorous start.
On all fours, we rock the boards from side to side to get used to the floating sensation. Attached by a network of bungee cords (to stop the boards from floating away), there is little keeping us still.
But that's the idea behind FloatFit – to get used to being unsteady on your feet. The instability of exercising on a board balanced on water is what makes this workout unique.
"Trying to maintain balance works muscles at a deeper level than a pure aerobic workout which targets superficial muscles such as biceps," explains Pascal as he urges us to rise to a standing position on the boards.
"The continual movement of water requires both the core and stabiliser muscles, which don't often get used in other forms of exercise, to work together and grow stronger."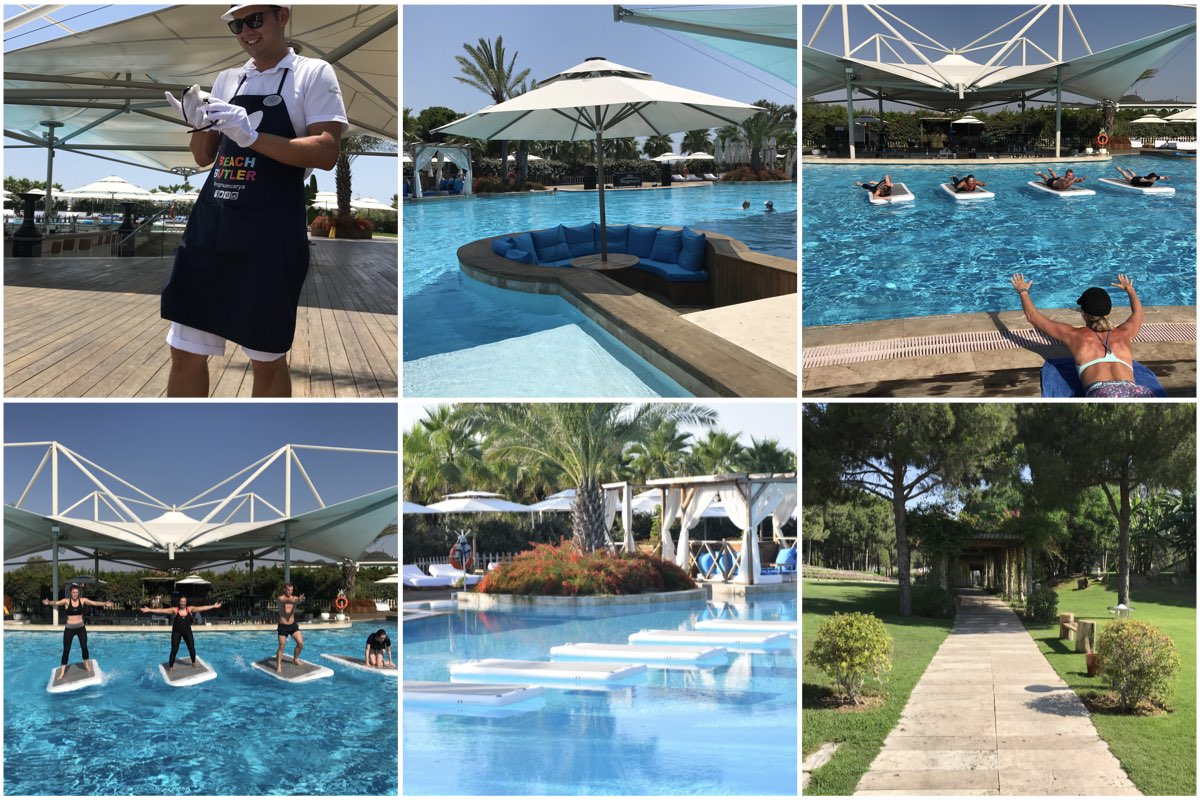 I feel like a baby pulling myself up for the first time as I wobble to my feet. But in just a few minutes I get used to the swaying sensation beneath me.
The Aquabase has a marking in the middle to help you find your centre of balance, plus a slip-proof surface to help you stay on. Nevertheless, it's one thing standing and quite another squatting and as we go from upright rocking into static squats. I fall off twice, crashing into the water bottom first.
The planks and press ups that follow aren't too demanding. I find it easier to stay on with my bodyweight spread out a little. Amazingly, I manage to master the burpees, and even attempt a few jumping ones (although admittedly the jumps are only about a centimetre high).
The hardest exercise – by far – is lunging. The second I try to move one leg forwards I feel like I am balancing on an unset jelly and plunge back into the water.
"It's a lot harder than it looks, isn't it?" I laugh red-faced to my neighbour, who seems to be performing jumping lunges with the ease of an acrobat.
"Ah don't worry, I've done this before," she says, in an attempt to reassure me.
Practice certainly does make perfect with this class. The Aquabase uses the natural buoyancy and fluidity of water to align the body, improving balance, strength, and flexibility, so the stronger these three get, the better you become at staying on board.
I am walking proof of this the following morning when I take part in a second, more intensive interval training class. I only fall off once and manage several rounds of mountain climbers, side planks and even a few jumping squats. While slightly out of breath following the 30-minute session, it doesn't really feel like I have exerted myself too much at all.
With the sun beating down on me, the gloriously cool water lapping at my feet, and dance music blasting out of the speakers, it feels very much like a fun holiday game rather than a HIIT session.
But don't be fooled… It takes a lot of core strength to exercise on an Aquabase. The next day I can definitely feel it in my abs, as well as glutes. It hurt to sit and cough.
I recall Pascal's warning on day one: "People often don't realise how hard they've worked until they wake up the following morning."
There are great fat-burning benefits too. The routines are said to zap around 400 calories in half an hour – much more than you would burn in a 30-minute toning class. For those who prefer more low-intensity forms of exercise, there is FloatFit yoga too.
The great thing about sampling the workout at a luxury, all-inclusive resort like Regnum of course is being able to reward efforts afterwards.
The food offering here does not disappoint. With a variety of cuisines from Italian to Brazilian, and a main restaurant serving up a huge selection of buffet-style food virtually 24/7, a whole army couldn't get through it. I tuck in, sampling the delicious Turkish soups and pastries, safe in the knowledge that I'd earned those extra calories!
Unlike most all-inclusive resorts, everything is included in the price at Regnum, down to the mini bar and chocolates from the patisserie.
It's only extras like massages and treatments that cost more. And with the kind of service you'd expect only to be given to Royalty (there are even butlers on hand to clean your sunglasses for you) you get the best of both worlds – activities when you want them and the opportunity to kick back and really relax when you don't.
AquaPhysical's FloatFit classes are currently available for guests at Regnum Carya Golf and Spa Resort. For more information about classes in the UK visit the Aquaphysical website.
By Nilufer Atik