We're all searching for that perfect pair of leggings – buy once, wear EVERYWHERE but does the perfect pair exist? If so, where can we buy them? Here's what Heartcore spin instructor Stacey found on her quest of some of the biggest brands. (Also see her tips at the end for keeping high-end leggings in great shape!)
I will buy leggings before I buy any other piece of kit kit. I'm a firm believer in the magic power of a new pair of leggings to make me feel taller, thinner, and a million percent more badass and brave. That said, it's not easy for me to find leggings that really work, because this girl has got curves – and so, I have quite a collection filling an entire drawer. I have workout leggings for serious sweat sessions. Street leggings, which really can't deal with sweat. Comfortable leggings, to hang out in at home but have faded or torn. And "out but not working out" leggings for weekend errands.
Ridiculous, isn't it?
So my big goal for 2019 is to streamline everything. To get rid of everything that doesn't fit exactly right, and stop buying cheap kit that just doesn't last and worst of all, is bad for the environment.
That means finding the leggings that can really do it all – and do it all while making me look amazing. I'm looking for leggings that literally and figuratively (see what I did there?) go the distance. I need these leggings to be able to go from work to class, look cute enough to go out for spontaneous drinks and be comfortable enough on long-haul flights, easy to wash, and don't lose shape quickly. I also want to feel amazing in them.
So after an intensive testing period, wearing pretty much nothing BUT leggings everywhere I went, here are the top 5 leggings worth spending your hard earned cash on because, well, they really can do it all.
LNDR
ULTRA-FORM 7/8 / Navy: Based in East London, and one of the newest of the high-end workout offerings, LNDR is known for creating technical activewear where the seaming and panels follow muscle lines and movement points on the body, to make workouts more effective and less about bunched-up clothing. The fabric, in a midnight blue, is absolutely gorgeous and cradled my legs in a velvety hug – and were absolutely comfortable. LNDR only go up to a size L, which is a 12/14 UK, but they looked beautiful on and despite having to cover all my curves, remained opaque even with the downward dog test (and a full-on mat pilates class). As I had to teach a double spin with them, I had ample opportunity to test out their "muscle-cradling" seaming, and though I didn't necessarily feel any extra boost, they felt soft and smooth and I got plenty of compliments from my students on the beautiful colour. After class, I pulled on a blue sweater and wore them out to brunch and then later that afternoon to a spontaneous pub crawl – so they pass the "go out" test with flying colours, and I'm guessing they'll do just fine on a long-haul flight as well. A cleverly hidden waistband pocket had just enough room for a key. My only complaint? I did end up with a wet patch after a double Ride, but they dried fast enough for it not to be an issue.
Ideal workouts: Light enough for a hot workout, fine for spin, Pilates or yoga; sturdy enough for a more intensive class like boxing, but I'd probably wear something a little more supportive for a longer run or a heavy HIIT session like a Barry's class.
What else can you wear them for? Honestly, these are beautiful and the seaming isn't obtrusive, so you could get away with them at work as well as at a social event. I'd wear these on a long flight as well, because they're so soft.
Price: £110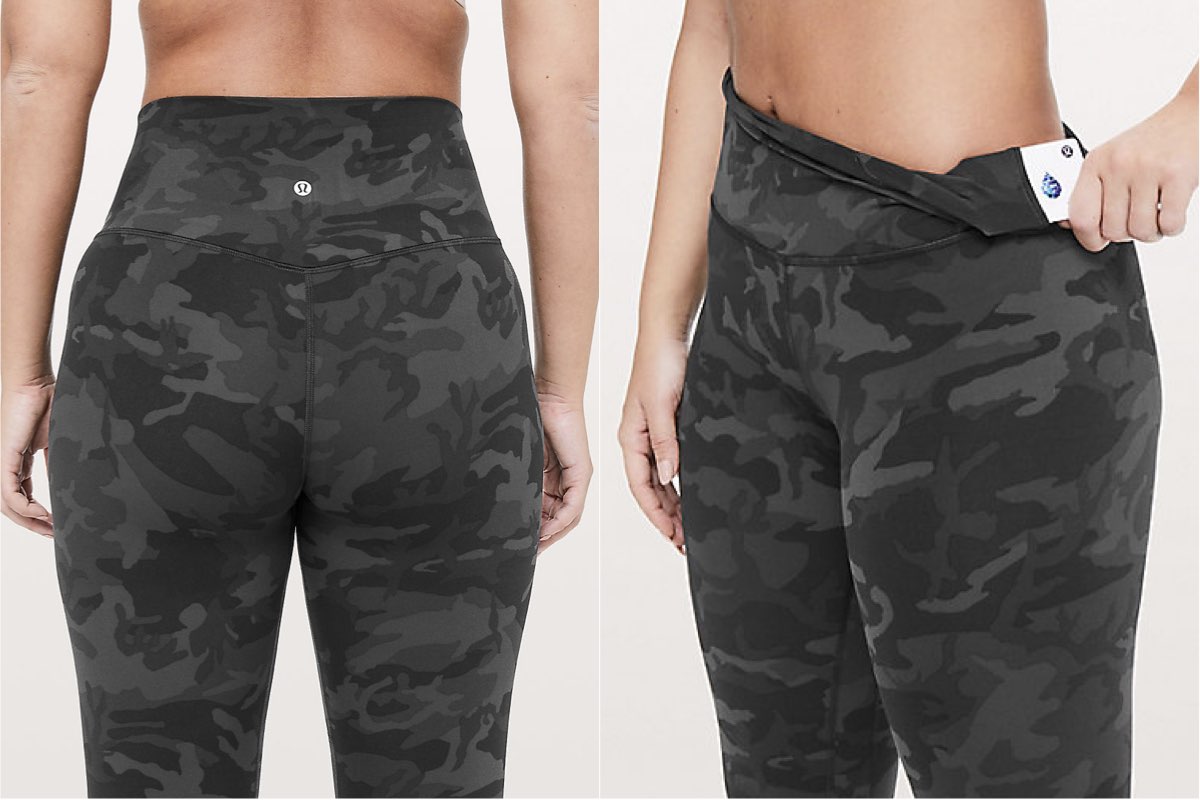 Lululemon
Align ⅞ Pant: I might have been the last teacher I know to try these because my typical go-to "all arounds" are the Lululemon Wunder Unders (like these beauties with a fab foil finish); the seamless construction of the Align worried me – would they make all my jiggles stand out? Nope. From the second I put them on, I understood why they're on heavy rotation for every instructor I know. These were the all-around champions, taking me one day from work to class to cocktails, and flew beautifully on a long-haul flight two days later. The completely opaque, seamless construction makes them look like elegant velvet tights – and they have just enough hold to shape my legs without being constricting in any way due to the seamless construction. Lululemon calls this the "naked" sensation, and yes, they truly are that comfortable. It felt like a velvety hug all day long. They're high-rise, and stay put all day long – no rolling down, with a cleverly hidden pocket in the waistband. And despite their full coverage and opacity, they also wicked away sweat like crazy – no damp patches, and they barely even felt damp when I pulled them on after a fast post-class shower. They were so comfortable, in fact, that they felt like pyjamas. They wash perfectly, hang to dry in no time, and are ready for the next session.
Ideal workouts in these: Fair warning: these are probably not the leggings for an ultra-HIIT session or long run – you'll want ones with more compression in the fabric and seaming for that – but these work perfectly for yoga, spin, Pilates – even hot yoga works in these. And of course, perfect for a walk or short run.
What else can you wear them for? Wear them for everything. Under a skirt, with low boots, they look like really posh black tights. With a blazer and tank? Easily dressed up for work. With a big sweater for a flight. All-around perfect. I'll be wearing these constantly.
Price: £88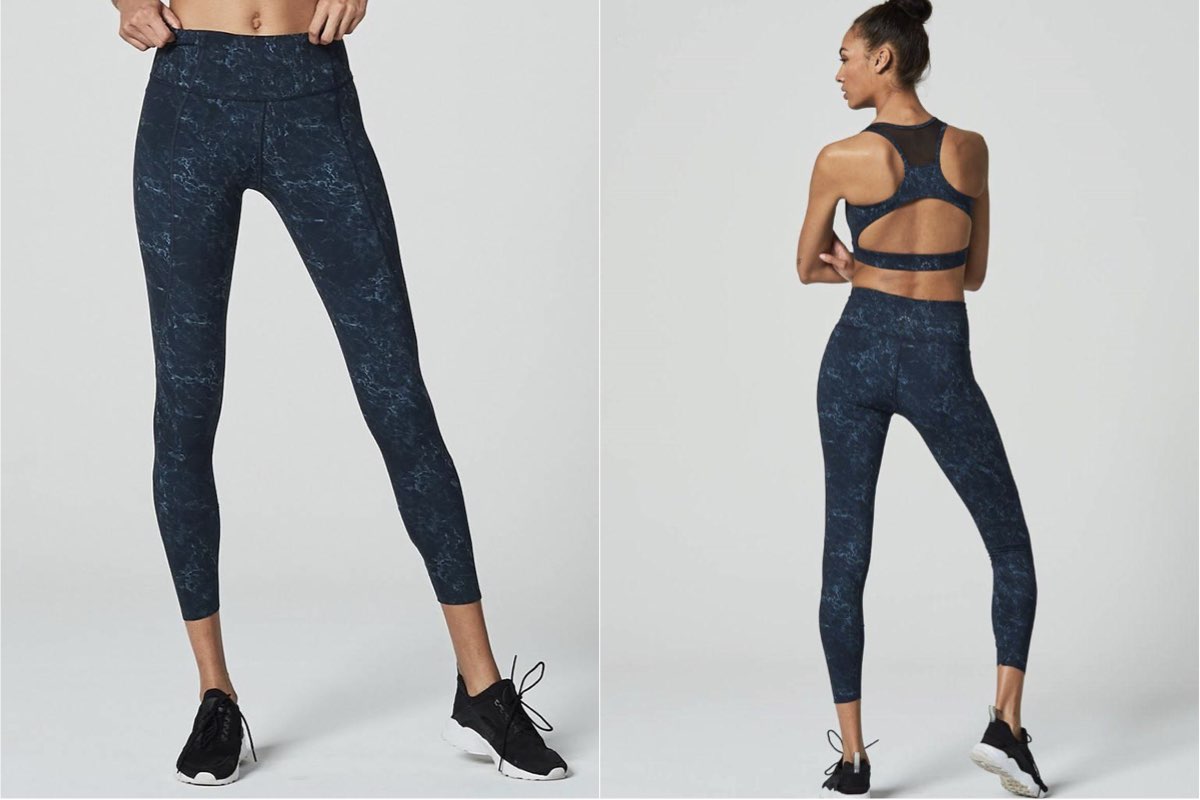 Varley
Bedford Tight: Varley, co-headquartered in the USA and in London, prides itself on creating multitasking workout wear. "From the school-run to the office, from the ballet barre to the boxing ring, the modern woman's routine has a changeable nature which demands high-performance active-wear with a high-fashion aesthetic." And wow, they deliver. Varley are known for their great patterns and fit. Sounds great, but I never wear leggings with patterns because I'm afraid I'll look too large, and Varley only goes up to a size L currently (though they are looking at introducing an expanded size range next year) – so I was afraid that even though they looked really, really cute, they might not even even fit. But when I put them on, I swear, angels sang. Suddenly my butt looked like Kayla Itsines' and everything looked toned and long and gorgeous. They were so great that a guy on the bus actually said "that's a great booty, girl," when I got up for my stop. (Made my day). They stayed comfortable and supportive when I taught a double class, no rolling down, no wet patch, and the sculpting didn't quit, so I washed them and wore them for Christmas with a long top and boots, and got loads more compliments. Bonus. And they have waistband pockets. More than one pocket, in fact. Winner winner, chicken dinner!
Ideal workouts: Because they have compression, seaming, and great fabric, they're perfectly appropriate for intensive HIIT sessions where you need the assist, and I really appreciated them during the double spin session because they kept my legs feeling fresh even at the end.
What else can you wear them for? With a long sweater, or a jacket and a long tank? Anywhere. Anytime. And no, you can't have mine.
Price: £85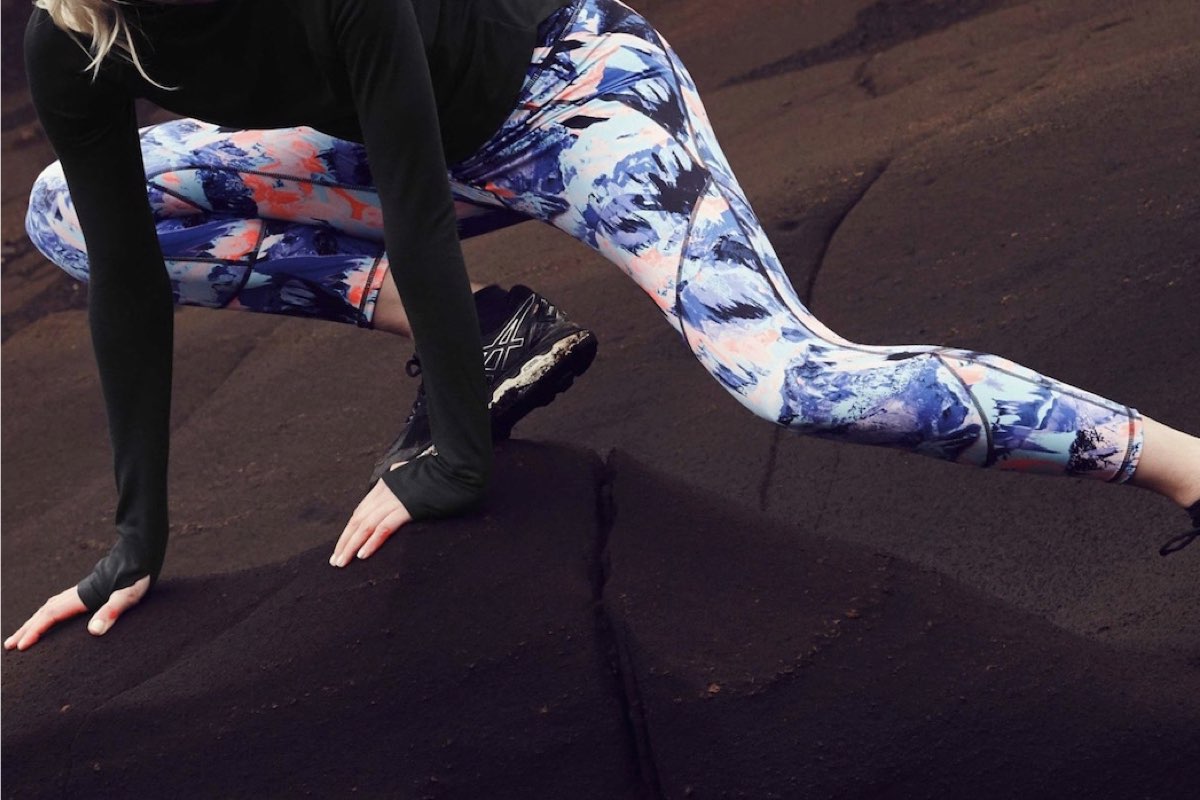 Sweaty Betty
Power ⅞ Workout Leggings – These babies are made of Italian technical fabric, and that fabric is designed to be light while sculpting. The seaming also helps to create a sculpted look, and I had two colleagues at work ask me if I'd lost weight (bonus). Overall, these were the most slimming that I tried, with a mid-high rise that stays up all day, no roll-downs. (Note that they also did an admirable job making my stomach look completely flat despite the overindulgence – bonus points for a perfect waistband). They're also the least expensive of all the ones I tried, which is definitely appreciated. The fabric is gorgeous and does that magical thing where your legs feel energised all day long without feeling constricted or rubbing. The only slight negative for a non-workout look was the reflective stripe at the back of the calf. I'd appreciate that touch for a night run, of course, but it made it a lot more challenging to figure out how to style them for going out or to work. That said, they looked (and felt) amazing, and they wash absolutely beautifully, with a perfectly placed zipper pocket (are you getting that I love pockets in my leggings?). I'm wearing these regularly to teach now, and I'd consider wearing them on a long-haul flight also, just because they look so good.
Ideal workouts: The seaming and compression on these is really top notch, which means you can wear them for pretty much any sport, no matter how high-impact (yes, even Barry's will be no match for these babies, you'll still look amazing after class). They are light enough to do a hot workout too, and are pretty much perfect for runs.
What else can you wear them for? The reflective stripe means that to wear them out or for anything not casual, you need to wear high boots to cover the calves – but other than that, they fit beautifully and can be dressed up easily. If they made a pair without the back stripe, I'd definitely get a second pair!
Price: £70
Lorna Jane:
Swift Booty Support F/L tight: The company's slogan is "We don't just sell Activewear, we sell an Active way of Life" and this Aussie brand has been popping up in classes all over London. Lorna Jane created a bespoke "Excel" fabric which is fully opaque, designed to wick moisture and feels cottony soft, and the shape is designed specifically to boost the booty (and boost it they most certainly did, according to my trainer). The styling is super-trendy, with striped elastics creating side interest and an opening to a phone pocket (though sadly, no waist pocket). The fit was a little less precise than the others; these ended up having a bit of rolldown after about an hour's wear, creating a tiny muffin at the sides. That said, they definitely lived up to the four-way stretch promise without ever going sheer, through a set of about a hundred squats. The booty boosted nicely as promised, and they were comfortable and supportive. The one problem I had was that they just didn't wick enough for me during a heavy workout and I ended up with a wet patch that took a bit of time to dry. I'd definitely wear them for a lighter or less sweaty workout, though, because they feel great. One issue for me – though the side pockets are great, they're not big enough to keep a larger iPhone secure, and there's no waistband pocket on these.
Ideal workouts: These are definitely sturdy enough for any class you want to take, though the slight roll-down meant a bit more tugging to keep them up and in place. Would also recommend for cooler workouts rather than hot ones and bringing along a long sweater to cover up any wet spots as the fabric is thicker.
What else can you wear them for? The striped elastics look great and very OTM, and with a long sweater, they'll definitely work for weekend brunches and flights.
Price: £75
What I learned from all of this testing and how to take care of them once you buy them: 
There's a reason why higher-end leggings cost so much: the fabric makes all the difference in your comfort and shape, and carefully-thought-out seaming makes a big difference in sculpting. Good fabric and design simply costs more. Also, if you're going to spend your money on high-end workouts, spend the money on high-end gear. Not only that but when you LOVE them, and they feel and look amazing, you wear them a lot more. They don't sit in the drawer. So your cost-per-wear goes way down.
Sizing is less important than you think: Even if you think that the sizing won't work, don't focus on the numbers and just try them. You might just be surprised at how amazing they look AND feel. If you're worried, try them on first at a store. No store? Every brand listed here has generous return policies and gracious support staff.
How they actually FIT matters a lot: You shouldn't ever think about your clothes during your workouts. With the first four pairs listed above, I never touched them once they were on, and they stayed where they needed to stay. Take the time in the dressing room to squat and lunge if you're not sure, and if they're digging in anywhere, don't ignore it – it's not going to get any better an hour into a workout. One more warning: if the rise (the distance from the middle of the crotch seam between your legs to the top of the waistband) is too short for your body, you'll either be tugging all the time to make them feel like they're sitting right, or you'll end up with a dire case of camel toe. Some brands will fit, some won't and that's ok. Even within brands, you may find certain styles suit your body type better. Find the ones that fit, and take great care of them (more on that below), and they'll take care of you.
Full length or ⅞? Completely depends on what you like and what feels good to you. If you're going to dress them up with heels, the ⅞ length looks freshest. And from personal experience, if you've got less-than-ideal ankles, ⅞ tends to be a more all-around wearable length because you can dress them up easily with heels or boots. But if you get cold, or prefer to be fully covered? Go for the full length.
How to take care of them? Wash leggings in cold water (no more than 30 degrees celsius). If you have delicate wash liquid, it will keep the colour fast and also keep the fabric in good nick. Don't use fabric softener, as it can gum up the fibers. Tumble dryers, though they make life easier, are the mortal enemy of high-end technical fabrics, so hang them to dry overnight on a non-heated rail or rack.
by Stacey