Until now, my experience of Austria has been largely confined to the Tiroler Hut on Westbourne Grove, where an evening of yodelling, schnitzels and a lively cow bell show told me everything I needed to know about Austrian hospitality.
I now find myself touching down in Innsbruck, famed for its ski slopes (so I'm told by a rather envious husband), to test out some mountain bikes. It is August after all.
After a 2 hour flight I am collected by a taxi driver who's built like a house with a ruddy tan and fine looking calves.
In less than 15 minutes we arrive at Hotel Seppl, a charming Tyrollean family run hotel with rustic alpine designs and breathtaking views over the surrounding mountains.
I'm quick to spot the on-site spa with a sauna, steam bath and indoor pool. Maybe later – once my calves are suitably exhausted.
[smartslider3 slider=78]
I join the others for an evening of presentations by Liv, a cycling brand owned by GIANT, dedicated to female riders. We schmooze with schnitzels and a palate-pleasing Alpine spritz, served by a waitress donning a dirndl.
When I say mountain bikes, I really mean pedal assisted, electric bikes. The sort that your mum might ride to reignite her spirit of adventure and help her to keep up with a faster crowd.
In this case, I am the mum racing behind a gang of seasoned bike journalists. A mix of French, German, Spanish and Polish, who must each be on their hundredth triathlon.
[smartslider3 slider=79]
After some breakfast and morning yoga delivered by a multi-talented writer from Spain, we set off on a 40KM bike ride through beautiful countryside.
I have to restrain myself from bursting into a rendition of "the hills are alive". They really are. If there's anything to remind you of how small and inferior you are it's those ever-present, majestic mountains.
After a couple of hours in the saddle, I reach round to my backpack to retrieve my i-Phone. This sort of scenery is just begging to be captured on camera. As someone who can barely indicate, let alone take a picture one handed (that's what the professional photographer is for), this is a disaster waiting to happen.
[smartslider3 slider=80]
I just want to add that AMITI-E is not the sort of bike you would have (or admit to having) an accident on but this is purely for your amusement…
Despite a lengthy health and safety demonstration, where duck tape is literally plastered to my handlebars to help me tell the difference between left brake and right (it's backwards for Brits). I get cocky trying to multi-task, lose my balance and slam goes my shoulder and my i-Phone in the process.
"It's tough when the brakes are the wrong way round", the photographer says, in an attempt to reassure me.
I spend the rest of the day smiling, while crying on the inside, convinced I have a dislocated shoulder but it does nothing to shake my appetite.
We stop off in the city of Innsbruck to sample some traditional Austrian cuisine consisting mainly of cheese dumplings and "Gröstl". A bacon, onion and potato fry-up served with a fried egg. The sort of food you can get away with eating after a hard day skiing. Not from a leisurely ride on an electric bike.
Sod Gröstl, after that tumble I could do with a Schnapps.
[smartslider3 slider=81]
To help us digest all that food, we're taken on a whistle stop tour by Apperle Markus (a.k.a Appi) starting with the Goldenes Dachl (that's golden roof to you and me). A wedding present from Emperor Maximilian I to his wife Bianca of Milan. Though I'm sure she would've preferred diamonds – especially when he didn't even bother turning up to the ceremony.
Despite a third of its 130,000 inhabitants being students, this clean, picturesque, peaceful city betrays no mark of typical student behaviour.
After an hour exploring the town, we climb aboard our bikes for the ride home. For a surprise ending to show us "just what these bikes are capable of", the LIV reps take us up a vertical hill climb. While normally I would be pushing the bike at this point, thanks to a magic button that assists my power by 300%, whoosh… off I go. It does feel a tiny bit like cheating.
As I accelerate up the hill, I peer over to check what setting the others are on. It's hard to tell as the bikes are virtually silent. But as I get closer, I hear the tell-tale buzz. Phew. Even the reps are in "Sport" mode.
Other modes include Eco for 100% assisted power and Normal for 180%. There's even a "Walk Assist" button if it's all getting too much or an Off button if you want to get a good workout.
It's no wonder Innsbruck has been chosen to host the 2018 Road World Championships. The diverse terrain and challenging routes will sure give riders a run for their money. Though I'm guessing their bikes won't be power assisted…
[smartslider3 slider=82]
What goes up, must come down… While speeding down a perilously steep, forest path, carpeted in pine cones, I take a wobble and almost lose my balance again.
"They can be pretty lethal", the photographer says. I feel like he's become my counsellor for the trip.
I'm relieved to make it back to Hotel Seppl for a warm shower – but with one arm practically immobilised, this is more painful than expected. I could really do with a session in the sauna but there isn't time.
Still, it doesn't deter me from a cocktail at the 360 Degrees bar in Innsbruck…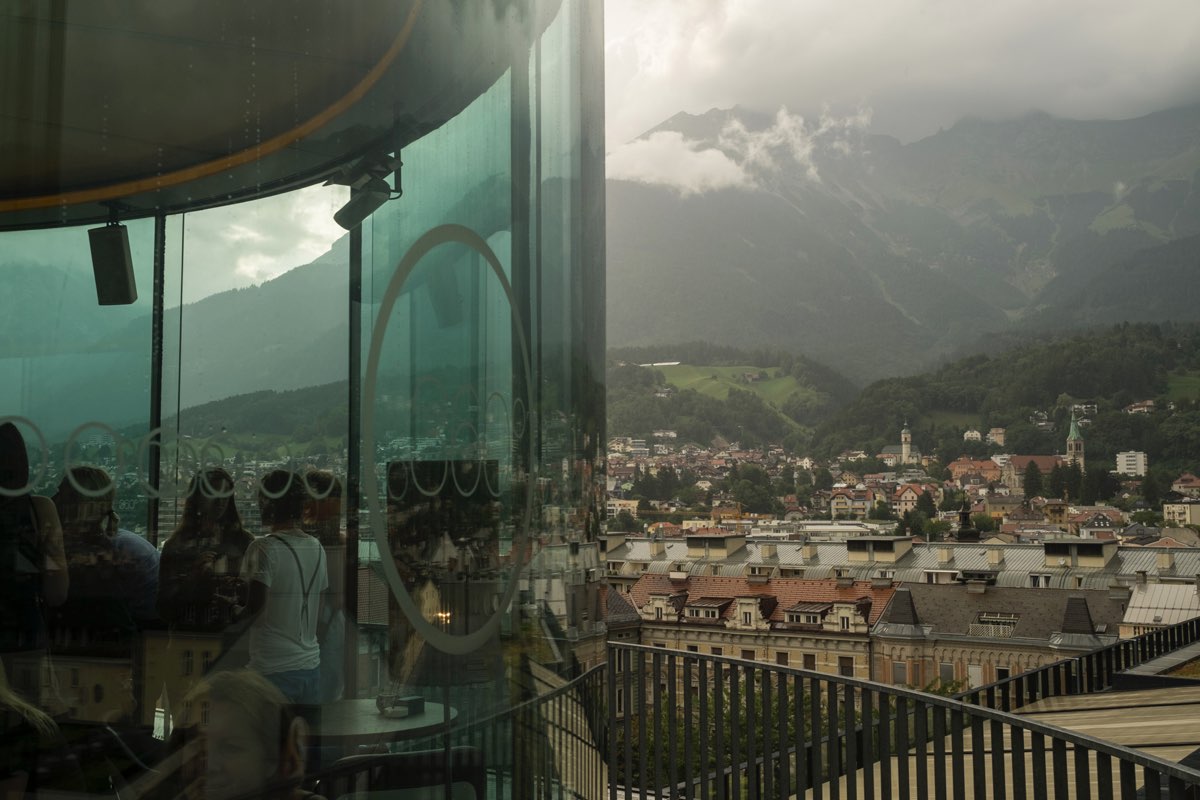 After a windswept Aperol Spritz, taking in the panoramic mountain views, we cross over to the Lichtblick restaurant for a three-course meal of octopus, halibut and crumble – all washed down with some tasty Austrian wine.
That night I sleep soundly and prepare for my return visit back to London. (I never made it to that sauna!)
As for the bikes – they are a genius invention. Whether you fancy exploring the precipitous peaks of Innsbruck, or roads a little closer to home, the Amanti-E will become a trusty companion in your life to take you from gnarly hill ranges to a quick wiz to the shops.
After every ride the lithium-ion battery can be removed and recharged as easily as charging your iPhone, and what's more – it lasts. From cycling 40KM (25 miles) my battery was only one bar down.
Despite the incident with the shoulder (that a nurse back in London confirms is not dislocated, which she demonstrates by wrenching it above my head), this trip opened my eyes to the wonders of Austria and left me hungry for a return visit.
Who knows, maybe I'll come back in the winter to test out my balance on the ski slopes.
The AMITI-E bike is available from early September. For more details about LIV's all-new E-Bike Ranges check out the website.