Rosie travels to South Tyrol to stay at award-winning spa hotel Preidlhof, and is forced to revisit her assumptions about a region she had previously associated with wine, cheese and stodgy food…
If I was asked to pinpoint the location of a spa that has been decorated with a formidable number of accolades, I probably wouldn't place it in a region close to the Austrian border that is famous for its cured meats, dumplings and apple strudel. However, nestled in a valley close to Merano that is blessed with over 300 days of sunshine a year, while still enjoying panoramic views of snow-capped mountains, lies a hidden gem: Preidlhof, a spa hotel that has won countless awards for its innovative services and healing treatments, yet still remains somewhat off the radar for most British holidaymakers and spa junkies. More fool them: rates are reasonable, sunshine is almost guaranteed, and the spa is one of the most expansive and pristine I've ever visited.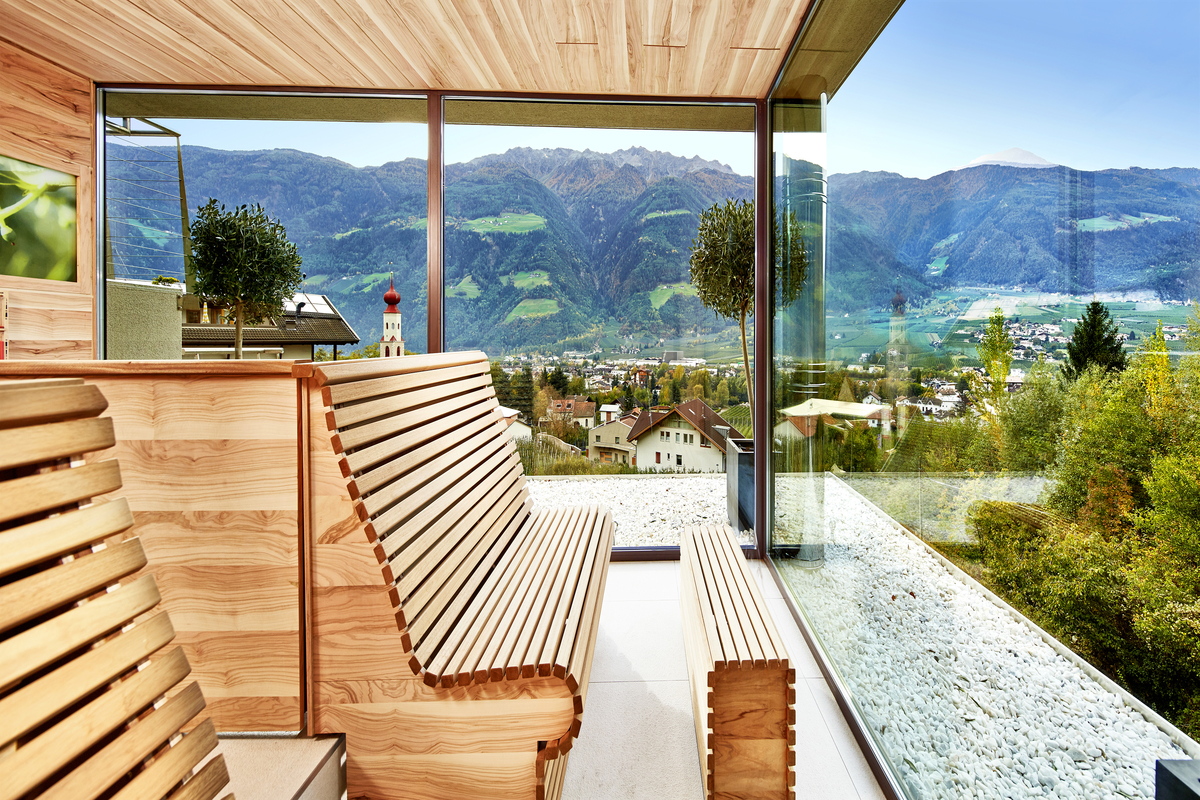 Scenic saunas
Preidlhof's spa facilities alone are sufficient to entertain guests for several days: the six-floor spa tower features a wine sauna, olive sauna, bio-saunas with panoramic views of the breathtaking scenery, plus two rooftop infinity pools, an indoor pool and a further outdoor pool. The sauna rituals are overseen by sauna masters Michel and Michaela, who have achieved podium positions in the sauna world championships over the past few years, while the deep sea relaxation room immerses guests in a light show involving 12,500 LEDs for a unique, other-worldly relaxation experience that has won a range of awards for its innovation.
Spa treatments are no less impressive: therapists must pass rigorous selection criteria in order to be granted the honour of practising in such a prestigious location, so whether guests choose to experience treatments that are clinically-focused, have an aesthetic purpose, or simply want to relax, they are in highly capable hands. My partner's chronic back pain was miraculously alleviated in the signature 'Lift Up' treatment, while my 'Glowing Flow' experience with a clinically-trained osteopath who has applied his understanding of anatomy to psychological conditions such as PTSD, was truly transformative: in just 90 minutes it was as if my soul had been laid bare, with the physical imprint of deep-rooted anxieties and past trauma identified and worked with in a supportive, non-judgmental environment. I never thought the Italian Alps would be the backdrop to inspire fundamental shifts in my perspective, but it turns out that a combination of stunning scenery, crystal clean air and an atmosphere of absolute calm was just what I needed to allow myself some much-needed space to reflect and regenerate.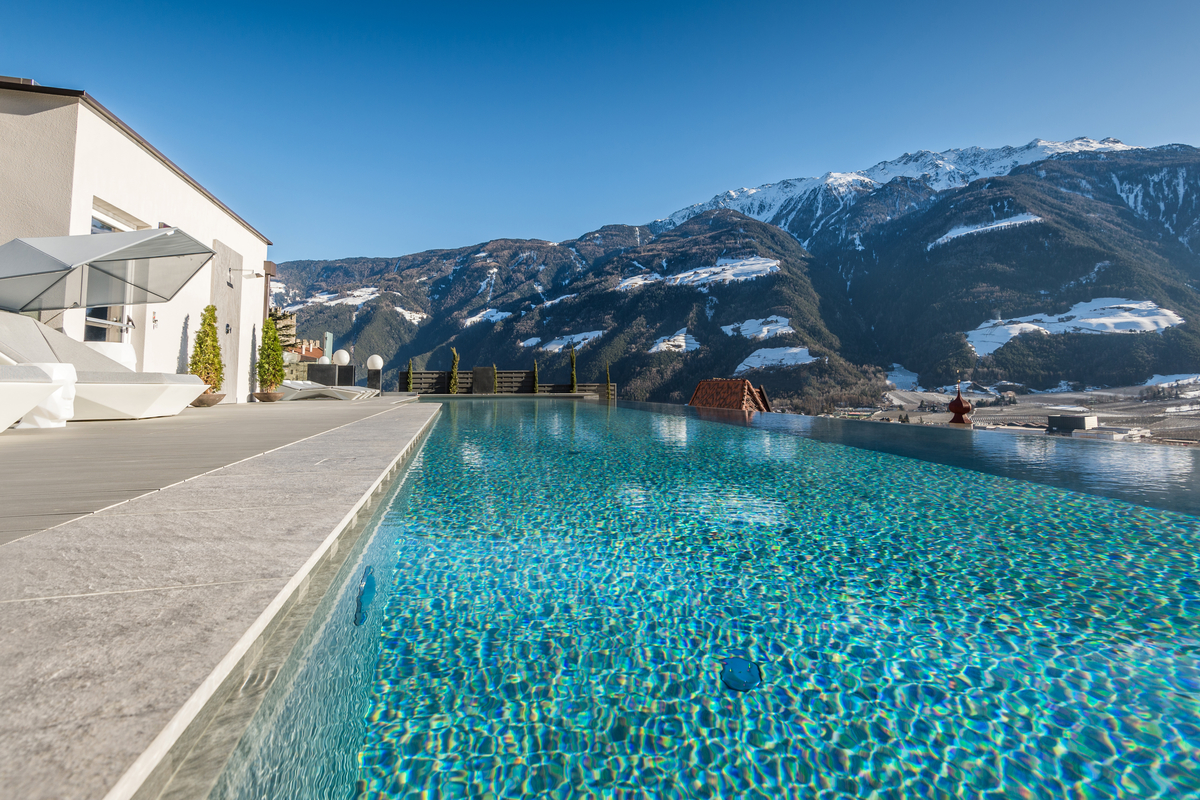 Alpine adventures
Those needing to inject some adventure into their stay will be spoilt for choice: whilst the hotel has two gyms and a timetable of various daily fitness activities, it would be a crime not to explore the incredible hiking and biking routes the region has to offer. Guided tours take place daily, or the hotel can recommend trips for guests who wish to do their own thing on state-of-the-art bikes and e-bikes that are provided free of charge. We cycled along the River Adige, passing endless rows of apple trees and incredible mountain views, to reach the spa town of Merano, where we were rewarded with magnificent Belle Époque architecture.
We also availed of the hotel's complimentary Vespa rental to scoot our way up into the mountains to reach Lake Vernago, an intense emerald-green wonder, whilst on another day the hotel introduced us to another wonder in human form: a guide called Irmgard, who has spent all 72 years of her life hiking the mountains where she was born. Her profound knowledge of the local scenery is the only indicator of how long she has spent exploring them: we were almost left trailing behind as she bounded her way to the summit, where she picked fresh herbs to prepare us a refreshing tea, over which she regaled us with fascinating tales of the forest and the curative powers of the herbs that grow there. Her radiant energy was perfect proof of the magical mountain powers she spoke of.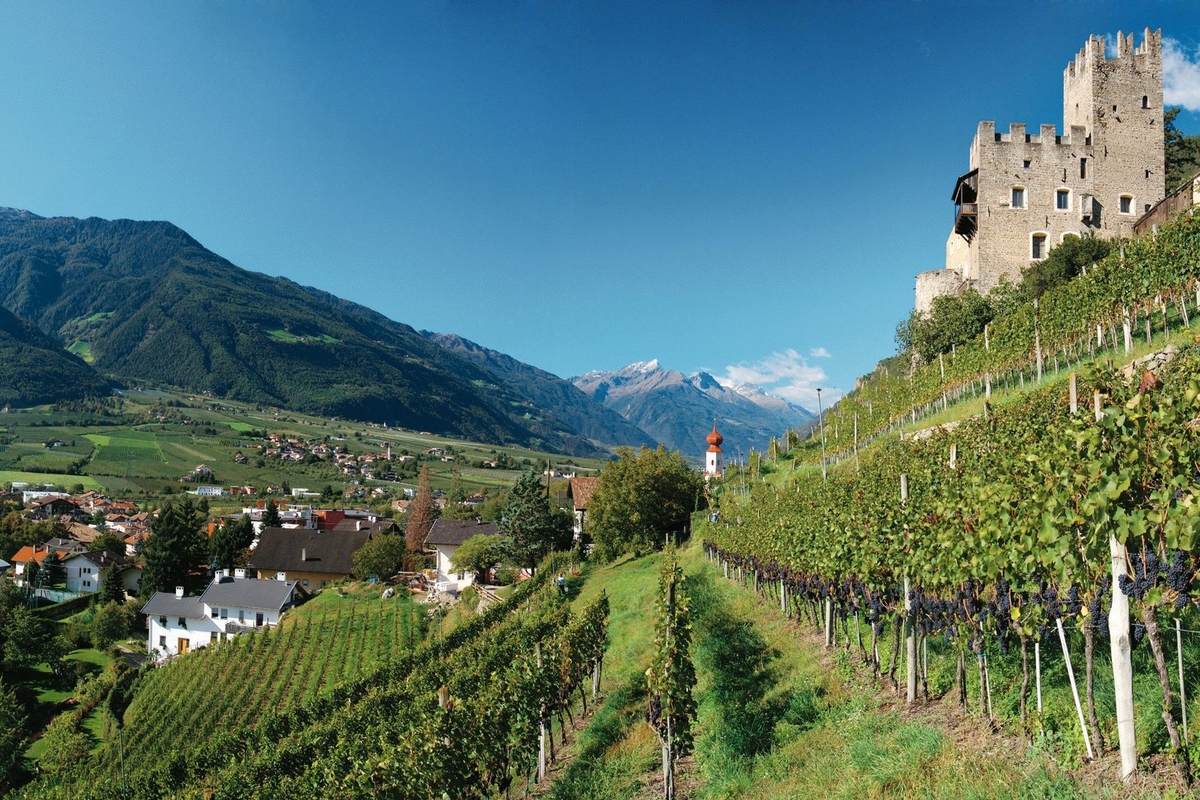 Sleeping under the stars
If you can't drag yourself away from the mountain views, rooms at Preidlhof are equipped with outdoor beds on the balcony for guests to sleep under the stars, where you'll be lulled to sleep by the jingling of cowbells, and softly woken up by the warm glow of the sun as it rises over the mountains. Breakfast can be taken on the restaurant terrace, and features the most delicious apple Bircher muesli you'll ever taste, a DIY juice station and over 30 different varieties of freshly-baked bread: we're in a German-speaking part of Italy, after all.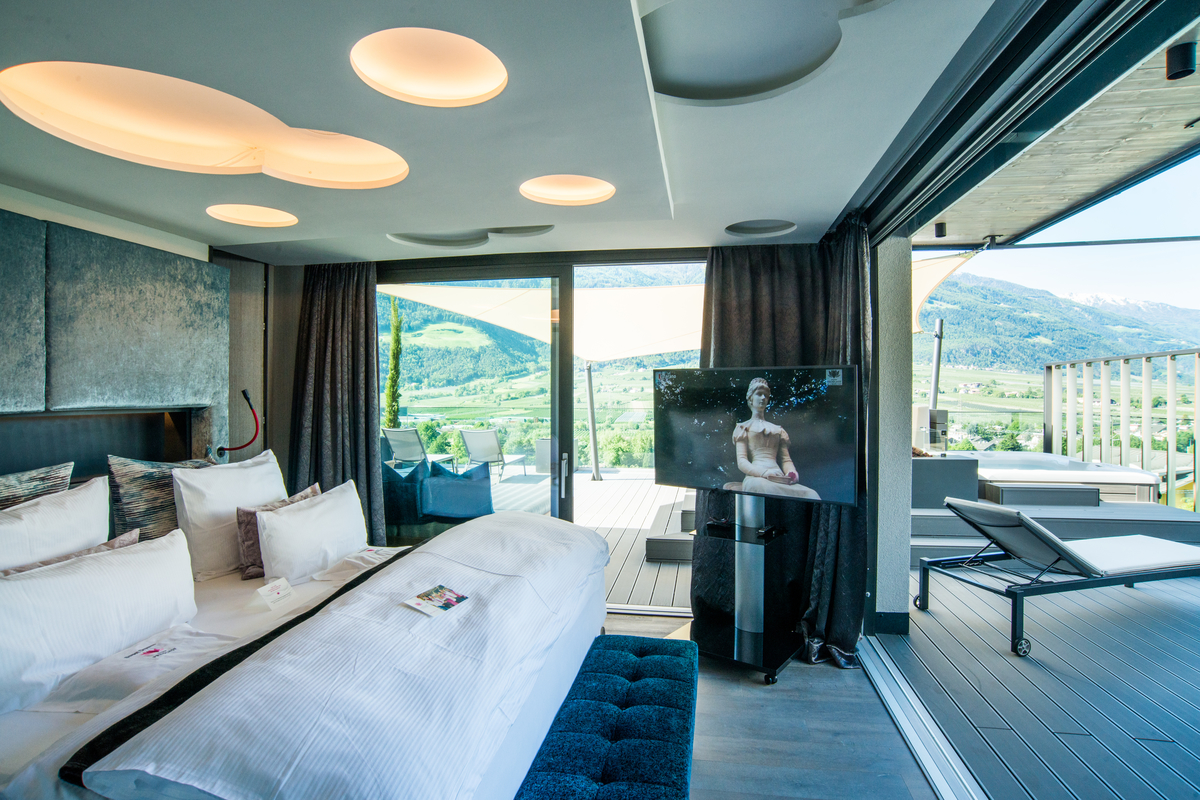 Best of both worlds
Just as the cuisine takes its inspiration from both Italy and Austria – think sublime pasta dishes and an afternoon cake buffet where apple strudel, peach crumb cakes and poppy seed cheesecakes abound – so too does the hotel showcase the best of both cultures: hospitality is second-to-none, with services running perfectly to schedule and facilities kept in pristine condition, whilst the romantic atmosphere (the hotel is adults-only) and relaxed feel is more in keeping with what you'd expect from an Italian sojourn.
One might expect the two cultures to be somewhat opposite – exceptional efficiency meets laid-back nonchalance – yet their fusion at Preidlhof results in a spa hotel experience that is truly outstanding. A part of me would love for this hotel to remain a secret kept from British holidaymakers, but it's simply too special not to share my experience there. Perhaps I'll have to take a leaf out of German holidaymakers' books and ensure I reserve myself a relaxation pod first…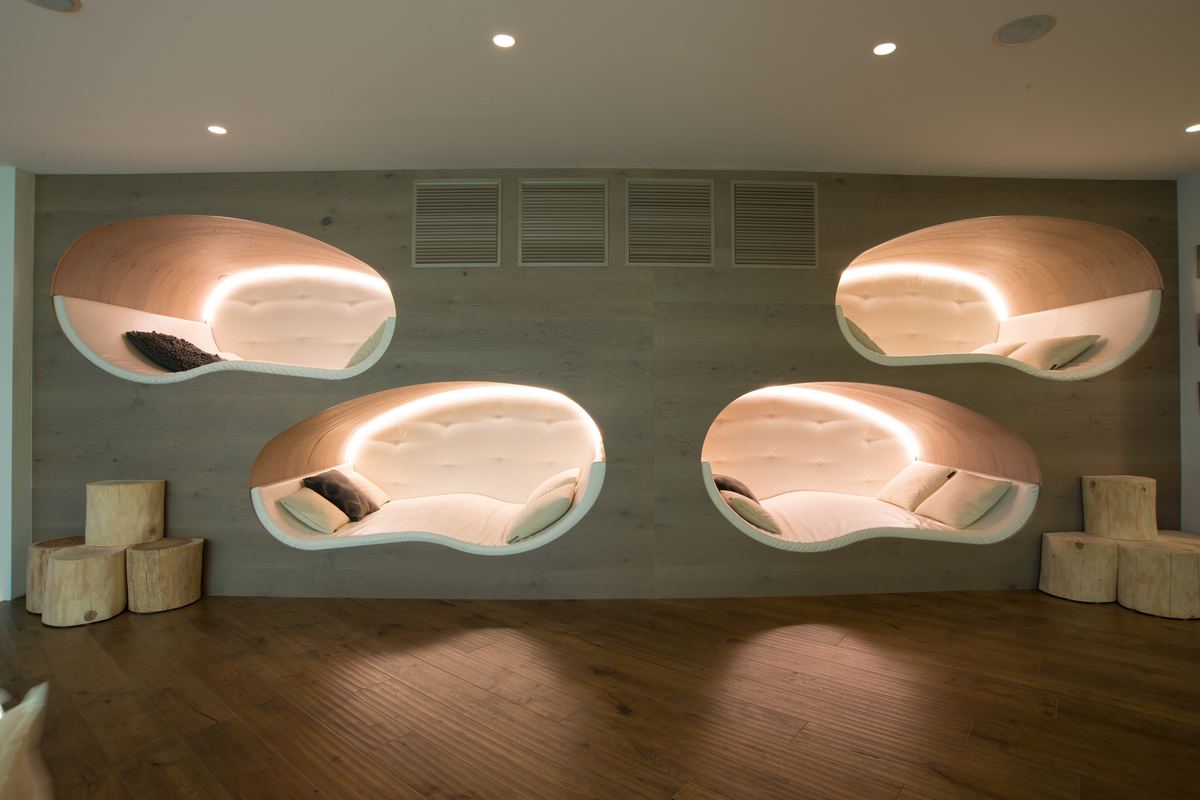 Rates at Preidlhof start from €160 per person, per night on a full board basis or €1,050 for 7 nights based on two sharing on a full board basis.  Rates also include a host of activities such as  a full schedule of exercise & wellbeing classes, access to the six-floor Sauna Tower dedicated to sauna experiences and daily guided hikes and bike rides.
Guests can also make use of complimentary DolceVita Vespas and quad bikes to explore further afield. The hotel offers a free shuttle service from Naturns Train Station and transfers can be arranged from Innsbruck and Verona International Airports. For reservations, call +39 0473 666 251 or visit www.preidlhof.it.
Get your weekly DOSE fix here: SIGN UP FOR OUR NEWSLETTER
After graduating from Cambridge University with a triple First, Rosie decided to pursue a career in the fitness industry rather than follow the traditional path of her peers in investment banking. Unable to shake off the fast-paced routine she developed in her City job, she achieves balance by winding down in yoga sessions, escaping on fitness retreats, and going for extended brunches that somehow seem to wind up in a hidden gem of a cocktail bar.