Are you still looking to book a summer sun escape? Look no further. DOSE writer, Kate stayed at Santorini's five-star Santo Maris Oia Luxury Suites and Spa and fills us in on why this spot is the perfect getaway.
Situated in the northern village of Oia, this luxury hotel is the ultimate hotspot for sunset views. And of course those iconic Santorini travel snaps we've all seen on the gram (they spark my travel blues too don't worry). Just five minutes from the main town, here, we felt close enough to the buzz but the hotel setting was serene and secluded enough to enjoy our privacy. The perfect balance!
The trip was short but sweet, so naturally we planned our itinerary around where to enjoy that world-renowned Santorini sunset from. Four nights, four different spots…
SUMMER SUN: WHERE TO WATCH THE SANTORINI SUNSET
THE ROOM
Santo Maris has 65 iconic whitewashed dome suites and villas. Each features a private living area, its own scenic veranda and of course, a blissful sense of calm. Room decor is stylish with boho-chic touches and the beds are bigger and more comfortable than you could ever imagine. The hotel combines local Cycladic architectural tradition with luxurious and modern facilities. There are no fewer than five freshwater pools (including two infinity pools). So, you can hop between them during the day and always feel like you have the place to yourself. We definitely did.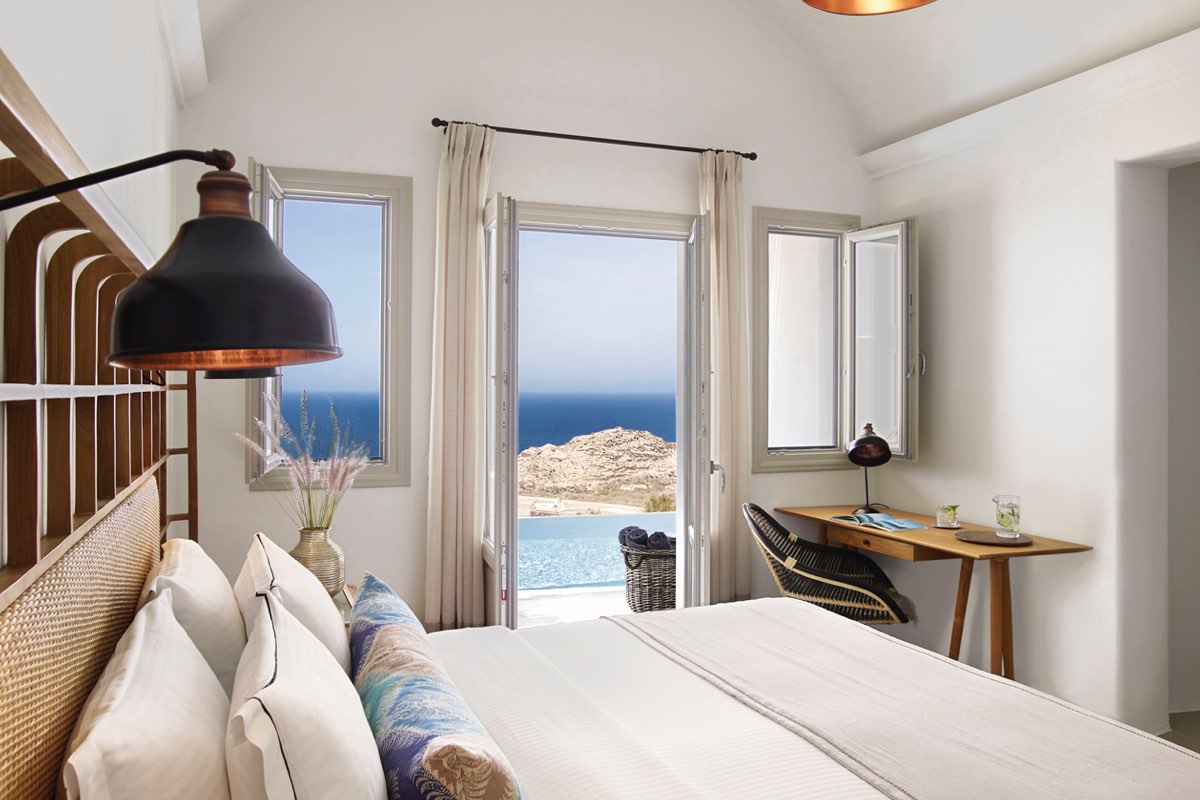 The ideal stretch after the flight from London, you can enjoy a private yoga session on the terrace. The hotel experience specialists arrange these on request, so don't worry about needing to stick to a class schedule. Now we were ready to re-fuel on some delicious Greek food. After our yoga class, we went for a simple room service dinner. The Greek cheese and meat platter were all we were dreaming of on the plane. And the local beer reassured us we were definitely starting our holiday right. Our ocean-view suite was the perfect place to watch the sun go down over the Aegean Sea. A glass of champagne in hand whilst relaxing in the jacuzzi, a perfectly balanced afternoon if you ask me.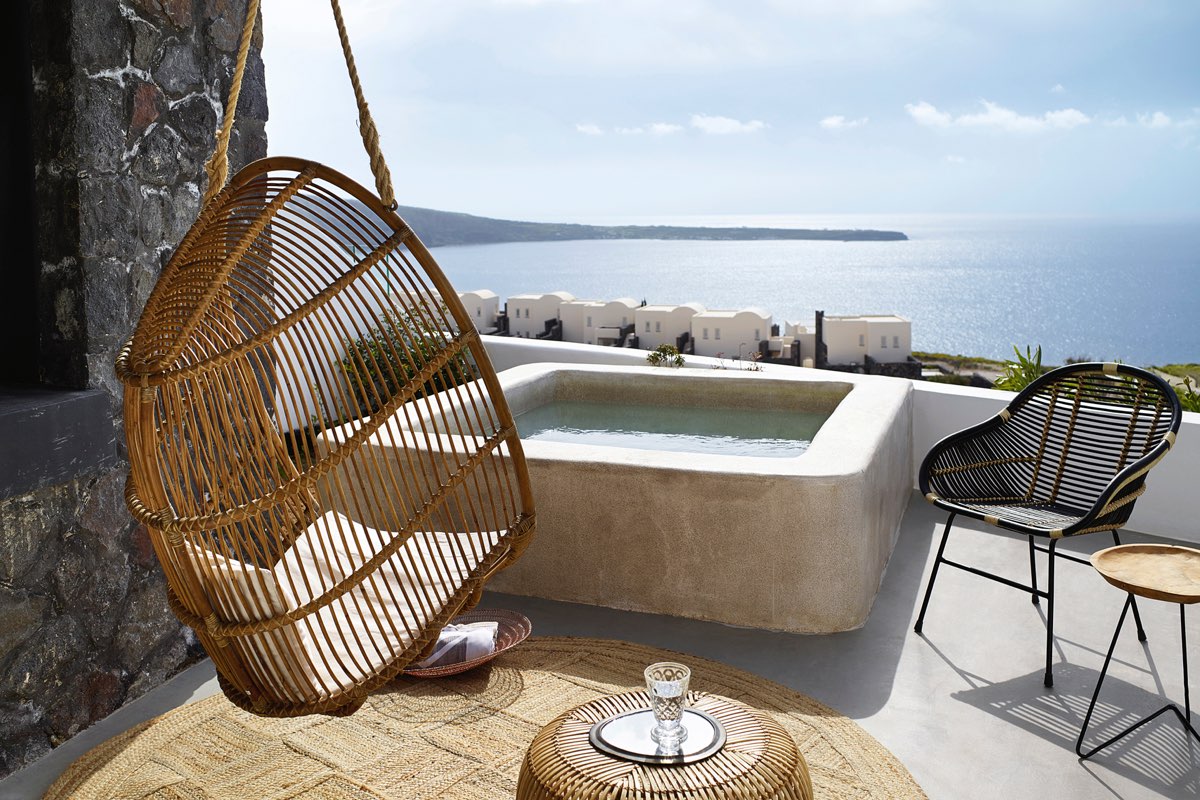 If you're looking for all of this and more then you'll be pleased to know that the hotel has just launched the new Santo Wellness Junior Suites Private Pool, built into the natural hillside, this is the perfect place to relax and recharge in the blissful location.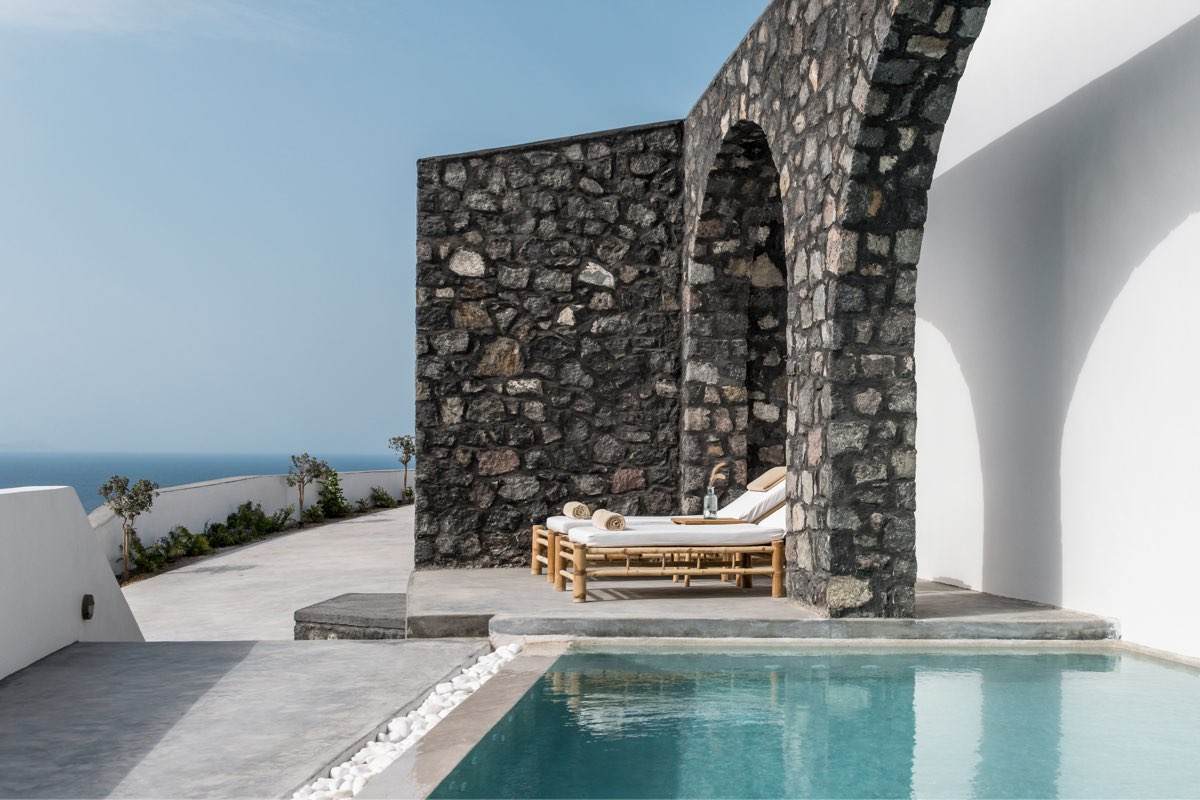 Guests will be treated to a five-hour guided bicycle Tour to neighbouring island Thirassia, a healthy mini-bar, a spa treatment and Vinyasa and Hatha Yoga Sessions to reconnect with oneself and surrounding nature. Plus, additional amenities are also included like wellness journaling notebooks, sleep spray made with local natural essentials oils, diffusers with essential oils inspired by the Santo Maris garden, a curated Spa beauty kit of products by Aegeo Spa Products and useful take-home Ritual Cards – altogether making this the ultimate wellness package. 
THE GASTRONOMY EXPERIENCES
Santorini is developing a real foodie culture. But you don't need to head out of the hotel to experience it. There are hidden gem restaurants all across Oia, but Santo Maris' gastronomy is really worth writing home about. From the Akroatos Poolside Bar and its chicken gyros paired with delicious cocktails, to the impressive breakfast buffet with local coffee, offering all of the dairy free options, it's the perfect start to the day. If you're seeking something a bit more romantic, there's also a private dining option. But the absolute-cannot-miss dining experience is the piano evening at Alios Ilios on a Friday night. Nestled next to the main infinity pool, the views over the pool merging with the sun-drenched sea are incredible.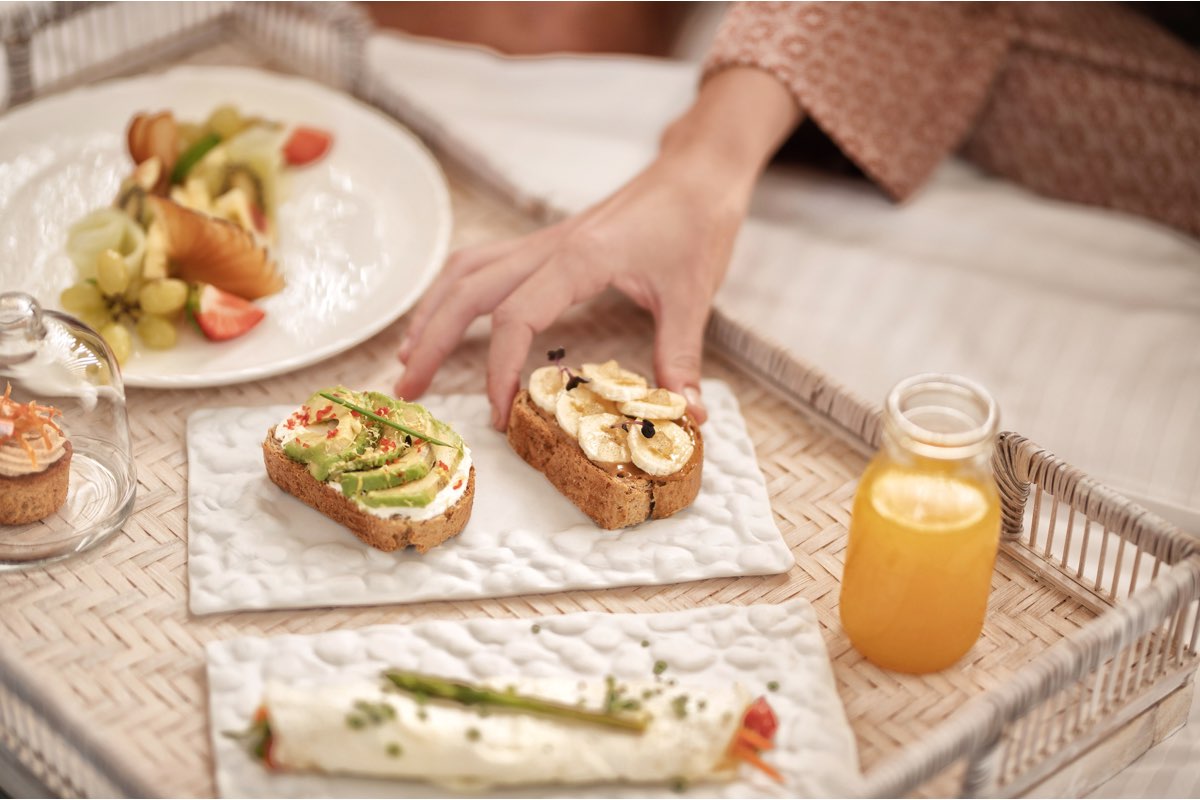 We enjoyed laid back, but elegant dining and some pretty special live music from the pianist. Think John Legend, Ed Sheeran and Doris Day classics. All whilst feasting on a traditional Greek (with a welcome twist) tasting menu and recommended local wines. The restaurant has been awarded by the Green Cuisine Awards and it's no surprise why. Alios Ilios is loosely translated to 'the sun that rises and sets to the sea'. So if that isn't enough of a sign that this is where you should be at that moment, then what is?
THE ISLAND
There's so much to see and do in Santorini that it was hard to fit everything in. Island visitors can enjoy walking along volcanic sand beaches, traipsing through beautiful backstreets and even vineyard wine tasting. All the best places to enjoy some summer sun. The capital town of Fira is not to be missed. Just a short taxi ride away from the hotel, there was only one place we were headed to watch the sunset. PK Bar. Well recommended by both friends in London and the hotel team, it did not disappoint. A family run bar boasting unparalleled views as good as the creative cocktails. Our kind of place. After another breathtaking sunset, we headed to the idyllic Kaliya for dinner. It's one of the highest points in Fira and their menu features wellness focused flavours using ingredients from sustainable producers.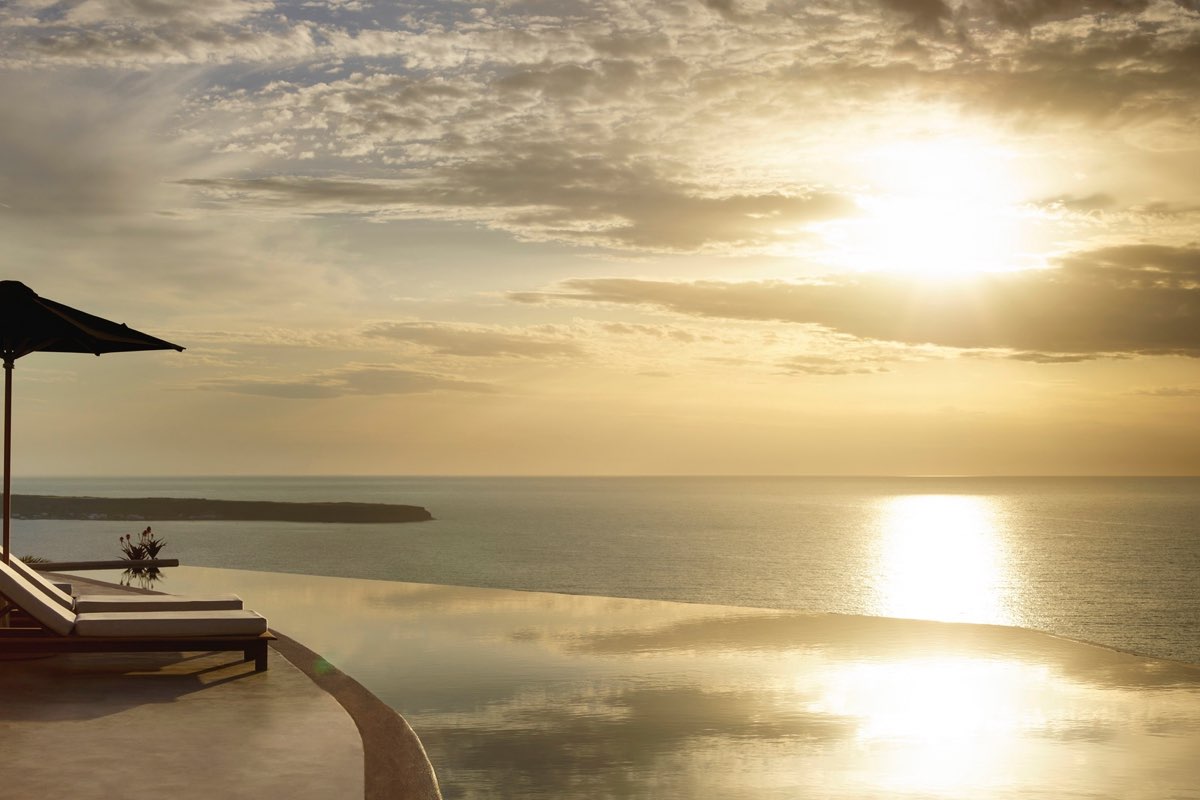 THE SEA
We were told any tour is possible in Santorini and it wasn't a lie. As we were on a last minute getaway in search of summer sun ourselves, we hadn't pre-booked anything. But with the helpful guest experience office at Santo Maris on speed dial, we were heading on a Caldera sunset-watching boat tour that afternoon. Not before a quick workout blast in the hotel's gym, fully equipped with treadmills, bikes and weights. Of course, post-workout, we couldn't resist a full-body massage at Anassa Spa. Awarded Europe's Best Resort Spa in Greece in the World Spa Awards every year since 2018, you can only imagine how we felt afterwards.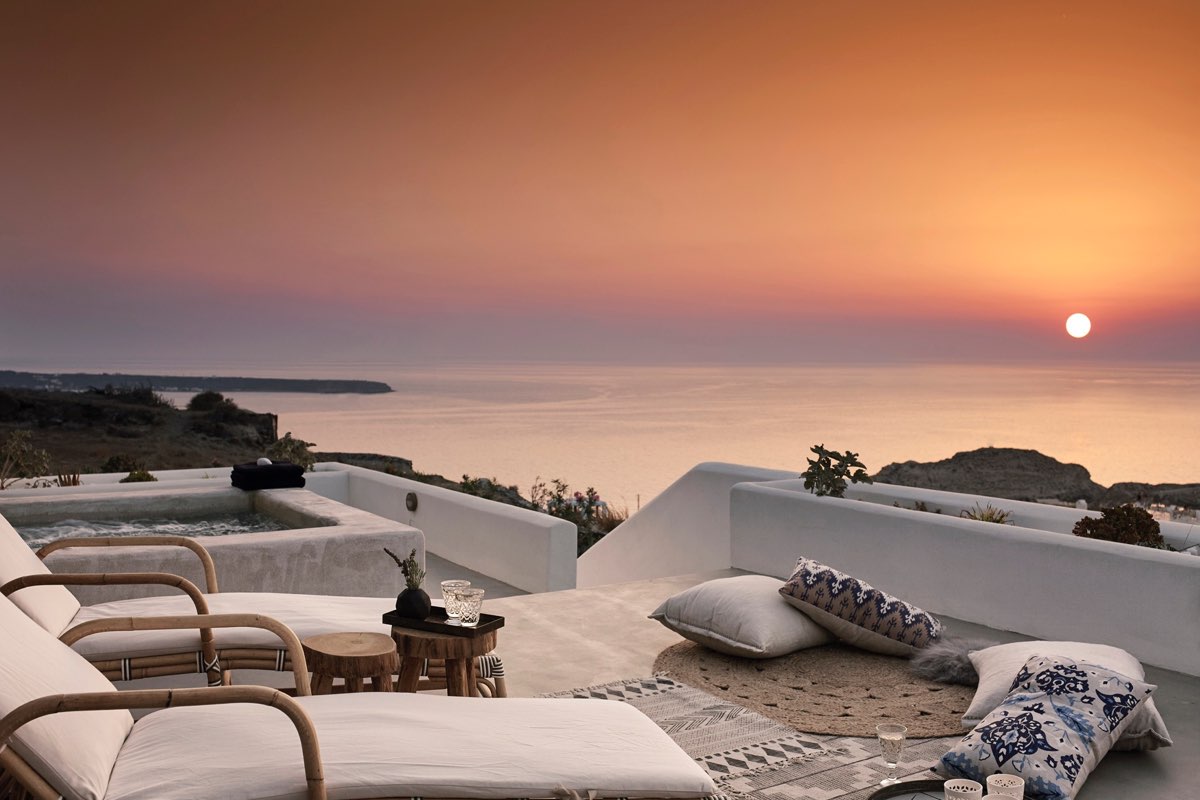 The Santorini boat experience is one in a million. Our captain took us to hidden beauties that can only be reached by boat. We sailed by landmarks like the Santorini Lighthouse and the dramatic cliffs of the Black Mountain. We even went snorkelling at the Red Beach and swimming in the hot springs. All perfectly rounded off with a glass of rosé while we gazed at the final sunset of our summer sun break. 
Disclaimer: one of the waiters at Alios Ilios told us that these once-in-a-lifetime sunsets last all season, so who's coming?